THE Cub Report, 09.03.2012, Version- 1986 Fleetwood Bounder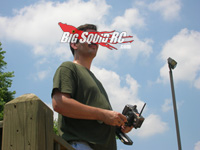 Happy Labor Day everyone! I know a lot of you guys check out THE Cub Report from the office first thing Monday morning, hopefully you are check'n it out at home today.
Biggest news coming up this week? Easy- BigSquidRC's 2wd Monster Truck Shootout! Stampede vs Granite vs Ruckus in a battle to the death (literally). Check it out on our front page tomorrow!
Formula 1 takes 5 weeks off for a "summer break" each year, thankfully they were finally back in action from Belgium over the weekend. For you basher guys that may have never seen how chaotic the start of a typical rc race is you can view the start of the Belgium F1 GP to see the full scale equivalent. When will Johnny Fat learn you can't win the race in the first corner, but you sure can lose it (as well as ruin several other drivers races)? Words to live by for all you noob rc racers…
Being the curious type that I am, I tossed this question around the office "Who is the number 1 American off-road rc racer thus far in 2012?" Needless to say I got a lot of blank stares, but I guess Brian has heard of Adam Drake before as he was his answer. So ya, the guys around the office were of no help. After all they are typical hard-core basher types and really couldn't care less who wins in the rc scene. So I then proceeded to fire off emails to my industry amigo's to get their input. I shot off 5 emails and guess what? I got 5 different answers. Big help those guys are, but really it goes to show that the current "system" does not do a very good job of determining a numero uno.
So who would I vote for as the number 1 American driver of 2012? First, I'd look at the 2012 ROAR 8th scale nitro nats. Ty Tessmann dominated both classes (buggy and truggy) at that event so you'd think that would put him on top for sure, but unfortunately he's not even in the running. Why? Because he's Canadian. So who was top American? Easy, Mid-West Horizon/Losi phenom Dakotah Phend. Phend finished second in both buggy and truggy, if I was seeking the number 1 American nitro off-roader he would be the guy.
But, and there is always a but, while nitro is still hot with the race crowd it is virtually dead with the bulk of hobbyists. Because of that fact I'd start looking at results from the 2012 ROAR Electric Off-Road "Super-Duper-National". I could look simply at who won the most classes, and that would be Thunder Tiger/Associated driver Ryan Cavalieri. Cavalieri won all three mod UFO classes as well as 2wd Mod SCT, you could basically say he pwn'd the entire event. But… general hobbyists could care less about the UFO classes now days, so lets say we toss them out, leaving him with just the win in 2wd Mod SCT.
So lets look at the most prestigious class at the ROAR "Super-Uber-National". Just what class would that be? In the old days that would have been 4wd Mod UFO buggy, but like I just mentioned we are tossing UFO classes. So… that would leave 4wd Mod SCT and 8th scale E-buggy as candidates. The Canadian Tessmann won 8th scale E-buggy, and it is a UFO class anyways, so we are tossing it. That leaves us with 4wd Mod SCT as being the most prestigious class. And the winner of 4wd Mod SCT at the "Super-Intergalatic-Nats"? That would be Thunder Tiger/Associated driver Ryan Maifield.
So… does that make Ryan Maifield America's best rc racer for 2012? Maybe, but unfortunately we will never find out. Our rc racing system does anything BUT determine who is actually the number 1 guy. Is it really asking too much to ask our sanctioning body to give us a single winner? Racers would respect one winner more, Joe Blow consumers could more easily wrap their heads around one winner, and the guys cutting the big checks to market a true National Champ would open up their wallets a whole lot quicker. Just say'n…
Oh… so who is my pick for "Number 1 American off-road rc racer for 2012"? My vote goes to Cavalieri, then Maifield, then Phend. I sure wish I could see those 3 guys compete in a national championship series to really determine a winner… but I don't see that EVER happening, instead we are left to wonder and bench race about it. Yay.
That's it for this week, have a Happy and Safe Labor Day, and as always, support your local hobby shops, tracks and bash spots.
YOUR Cub Reporter