THE Cub Report- 09.05.2011- Version: Traxxas Pala National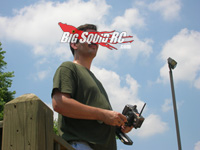 Funny how the meltdown emails come in every week when I dare mention anything about motocross. Yup, I spam motocross pretty hard in every Cub Report, and I do it not only because I can, but because there are many direct ties between that sport and ours. With that said…
Something huge is going on this coming weekend. Traxxas, "The Fastest Name In Radio Control", is the title sponsor of the final Lucas Oil AMA Motocross of the year being held in Pala California. Ok, so maybe you know nothing about mx, but trust me, for Traxxas to step up and be the title sponsor of an AMA Motocross is a huge deal.
I never thought I'd ever see the two greatest passions in my life, moto and rc, converging like they are now. Moto has arguably been "mainstream" for over a decade, so when Traxxas cuts the big checks and supports moto they are marketing to a HUGE mainstream audience, thus meaning the chances of rc going mainstream are greatly enhanced. Wow, I still can't believe what Traxxas is doing for our hobby. If I had to guess 10 years ago what company was going to take rc to the next level I would have laid my money squarely on Thunder Tiger/Associated, but regardless of who it is doing it, I'm simply in awe that our little hobby of rc has a shot at blowing up.
Anywhos- All motos from the Traxxas Pala national will be televised LIVE this weekend! Catch Weege and Fro live on Fuel for the first motos, and live on Speed for the second motos. Monster/Kawi/PC/Traxxas rider Deano Wilson wrapped up the 250 title last weekend at Steeltown, but the 450 title is still up for grabs between Villopoto and Dungey so tune-in or DVR if ya can. Traxxas has already been getting loads of tube time the last few nationals (did ya see the bit with Nick Wey a few weeks ago?) but expect for Traxxas to be everywhere on the telecast this weekend. Oh and no, I don't work for Traxxas, but for all my raving they should be cutting me a check. LOL
Shootout! The way-super-uber BigSquid 4wd RTR Short Course Shootout is done! Traxxas vs Ofna vs HobbyKing– tune in to our front page on Tuesday to find out who won! We put a lot of work into this one, and we had several surprises along the way, I hope you find it some enjoyable reading, and if you are shopping for a new SC I hope it helps make your buying decision a bit easier.
Rumor amongst the ranks is that Craig "The Ramp Builder Guy" is nearly finished with his review (ok, who's kidding who here, just read torture test) of a bona fide RedCat truck. There haven't been many trustworthy reviews of a RedCat done so even I'm waiting on pins and needles to see what Craig thought of it (and whether or not it ended up in a bucket). RedCat has a bad reputation for reliability, is it based on fact or fiction? Find out soon right here on BigSquid.
I gave away my Electrix Boost two weeks ago, gave away my Speed Passion SP2 last week, does BigSquid have any contests this week? The answer is you never know what Brian, Evan, Jeff, Bill, Adam, Jim, Tim, and Craig have planned around this place…
Mark your calenders now! The last iHobby Expo in Chicago is coming up October 22nd and 23rd. BigSquid will be there in full force, heck I've even been told I gotta work all 4 days there (like that is gonna happen). We've got some real "ShowStoppers" planned for our booth, we are the demo track sponsor again this year, and of course we'll have our Squid-Girls walking the show looking cute.
That's it for this week folks, support your local hobby shops, tracks and bash spots!
YOUR Cub Reporter