THE Cub Report, 09.10.2012, Version- Don't Roof Rack Me Bro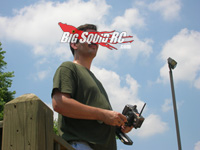 What a great weekend huh? Formula 1 was in full effect at Monza, American motocross wrapped up their series in the heart of the 909, and NFL football had a full schedule, it just doesn't get much better than that. Actually it does- when you have enough time left over to break out the rc's and get some bashing in.
First up this week is a note about our 2wd Monster Truck Shootout. We have received a LOT of emails regarding how awesome it was and how bad it sucked, I guess that depended on which brand the reader liked the most. For example, we received multiple emails on how the Stampede is the best truck of all time and we have to be out of our minds to place it last. Having been a part of the shootout I have to say the Stampede is a mighty fine truck when driven alone, it's when you drive it back-to-back against its rivals do you start to see the other trucks are even better. I will also say I was extremely impressed by the ARRMA Granite, freak'n solid truck that totally deserved the win. I was perhaps even more impressed by the ECX Ruckus, before the shootout I thought that because of its super low price point that it would have zero shot at hang'n with the Stampede or Granite, boy was I wrong. The ECX might have a low price point, and it has no chance of ever breaking any track records, but for what it was designed for (bashing, having fun) it is right on target. Any which way, thanks for reading the shootout, and big thanks to everyone involved. Btw, we are well into our next shootout, our "Sub $200 Transmitter Shootout", look for it in the next couple of weeks.
Second up- rumor is the official LCG Traxxas chassis for the Slash 4×4 is right around the corner. Editor Brian is totally stoked, he can't wait for an official Traxxxas LCG chassis that keeps the Slash 4×4 from traction rolling every time you blink. My personal opinion is a bit different. Yes, LCG chassis's have their place for sure on the Slash series, but, while the LCG chassis certainly will help in high bite situations, a whole lot of bashers end up in grass from time to time, and I don't have to tell you guys how badly LCG chassis's suck in grass. I mean, you don't see anyone bashing an Associated B4.1 or a Losi 22 in the grass, they sit too low and don't go anywhere fast in the green stuff, we've all been there before. The stock Slash 4×4 is a hell of a good truck for what it was designed for- general bashing and rough terrain. You can throw an LCG chassis on it for the "racer" crowd, but then the true core racers are going to be running a Durango, or Associated, or Losi anyways. I kinda doubt you are going to be able to convert a racer from a Durango over to an LCG Slash.
Thirdly- the Cleveland iHobby Expo is almost here! October 11-14th are the dates, try to make it if you can. The BigSquidRC crew will be there is full force with a new booth and new uber booth babes. And yes, we will be giving away a brand spanking new truck at each of our demo's during the consumer days. Drop by our booth for free stickers and drop by our demo's to get a chance to win a free truck. Free should be our middle name.
Fourthly- speaking of Free… it's nutz around here with all the free stuff going out the door. If you haven't won something from us you obviously haven't been try'n. First we've got a very uber Pro-Line prize pack that we are giving away over on our Facebook page. If you could use a whole bunch of ultra trick Pro-Line short course gear (and who doesn't?) be sure and check it out. We are also giving away another brand spanking new truck this week. Is it a Durango? Is it an ARRMA? Is it a Duratrax? Is it a Thunder Tiger? You'll have to enter to win, and we don't hit ya up for a bunch of personal info just for you to enter. We certainly aren't doing these contests to build up a mailing list, we are doing these contests to hook you guys up.
The big debate around the office last week? Believe it or not, it was about the Kyosho NeXXt mutant buggy. Yes, I preach and preach about how scale realism is good for the hobby, but something all new isn't bad either. No, I don't want to see a new racing class made up of these, but I certainly want one to go out behind the house and goof around with my buddies with. Anywhos, half the guys here at our office absolutely hate the NeXXt, while the other half can't wait to own one. I'm in the half that can't wait to bash one (even with its goofy "big bore friction shocks"), and I'm pretty stoked to see Kyosho putting out something edgy. Now if I can just talk those guys at Kyosho America into hooking up with Horizon for distribution my life will totally be complete.
That's it for this week folks, support your local hobby shops, tracks, and bash spots (and hobby shows)!
YOUR Cub Reporter