THE Cub Report- 09.12.2011- If Ya Can't Beat'em, Join'em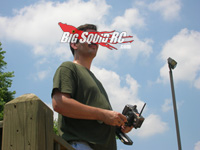 Has it already been another week? Omg does time fly in the wonderful world of rc.
Imitation is the sincerest form of flattery right? I guess Xtreme RC Magazine really digs us then as they've got their version of Jeff's long running "R/C Around The Web" column in their magazine now. And yes of course, Jeff's version is vastly superior. Incidentally, I can't wait to see Xtreme's version of "THE Cub Report". Anyways, one thing is for sure- there is only one place setting the trends, us, and it's dern nice to be on the team that's "Winning". The fun we have posting and then watching the mags trying to play catch up… hehehehe
Speaking of leading the pack… we've been scooping a lot of news lately. We broke the Horizon/Losi Ten SCTE RTR news, then the Axial Wraith kit, the Electrix SC Truck with a 2.4ghz radio, the Helion Truggy and Charger, and over the weekend we were the first on the net to post about the new Traxxas F-150 Raptor and the HPI Mini Recon. Yes, the view is nice from way up here. 🙂
I'm certain you all watched the F1 grand prix from Monza last weekend, where my beloved Ferrari team couldn't come close to pole position, and they were lucky to put Alonzo onto the third step of the podium. Of course the lackluster performance didn't stop the Ferrari tifosi from flooding the Monza track during the trophy ceremony, their love for the prancing horse is beyond anything we can relate to here in the states.
Losi tifosi got some great news last week, a brand spank'n new Losi 4wd 5th scaler! (The 5ive-T) After I ranted about how far behind Losi has become, all of sudden they prove what a forward thinking company they are and jump into the 5th scale product segment! Woot Woot! (ummm… wait… how long has the HPI 5B been out?? or even 5th scale in general, Traxxas Monster anyone??) Ok, so maybe they aren't setting any trends by putting out a 5th scaler, but they must be applauded for jumping into the 5th scale category with what appears to be one uber 4wd gas truck (albeit not cheap at $1600). Can't wait to buy a RedCat version of it for under $500 a few months from now…
Speaking of RedCat…. at what point are hobby shops going to give in and start stocking parts for them? RedCat has blown up to the point they are seemingly everywhere you look. I can testify first hand that at the RCX Chicago show our booth was right next to a booth selling RedCat and they couldn't break open the cartons fast enough. It was seriously amazing to me how the busiest booth at the show was the RedCat booth. I was glad to see first hand just how fast RedCat blows out the door. Anyways, there are a lot of broken RedCat trucks out there that need parts, and while hobby shops hate RedCat, they need to keep their doors open and selling RedCat parts could certainly help do it. Oh and, I have a feeling a little bit of capital can buy a Lottttt of RedCat parts to fill the shelves with… And no, I'm not getting paid off by RedCat to say these things, I just think the rc industry has drastically changed and that LHS's have to change with it (or die). Just my worthless .0000000002 cents.
Btw… the rumor that won't seem to go away- that Horizon is losing Traxxas. I highly doubt it's for real, but if it is, just what is going on over there at Horizon to lose as many products lines as they have recently? And will they have anything left to distribute a year from now? Wow, simply wow…
And yes, the world revolves around Traxxas! Don't be a mag-love'n-poser, be cool and hang with the BSRC bash crew at the Traxxas TORC race this week, Sept 14th and 15th, at Chicagoland Speedway in Joliet Illinois. Yes, Traxxas will be holding rc races, and yes, the full scale trucks will blow you away with how fast, loud, and powerful they are. Seriously, if you haven't seen a TORC event in person, it's well worth the time and money to be there. TORC racing is like most full scale racing, it must be seen in person to truly appreciate. But I'd like to ask one question of Traxxas- why must you hold your races on a Weds/Thurs???? Yes, I'm certain a TRX rep could give me 30 reasons why they have to hold their event during the middle of the week, but I don't care how many reasons they give, a Weds/Thurs schedule SUCKS for pretty much everyone that wants to come and support their events. Just say'n….
That's it for this week Cub fans, support your local hobby shops, tracks and bash spots!
YOUR Cub Reporter