THE Cub Report, 09.16.2013, Version- Ozymandias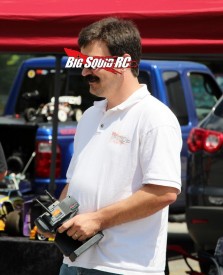 All the best stories start with "So I was walking through my local Fry's…".
So… I was strutting through the isles of my local Fry's, just looking to pick a techno babble fight with one of their 19 year old greenhorns, and I stumble across a quite "hobby grade" looking rc car for sale. And not just one, but they actually had several on display. Now, you might not have a Fry's near you, if not, they are basically your local Best Buy, only bigger and cooler, with more uber gear, with an immensely better buying staff (as in, at the corporate level). Your local Best Buy is most likely a train wreck from bottom to top with zombified morons working the floor, and a management staff clearly trained from the Bill Lumbergh handbook. So while it's no big surprise to see some $29 quad sitting on the shelf at a Best Buy, it was a real eye opener to see some "hobby grade" looking surface products taking up precious shelf space at Fry's.
However… those "hobby grade" cars weren't Losi, or Traxxas, or Associated, they were manufactured by ZD Racing (Who??? Actually I know who they are, but I would doubt an average hobbyist has ever heard of them). I don't have to tell you guys how much raw cabbage some of our big hobby grade companies have spent on mainstream advertising, yet when "hobby grade" looking cars finally hit my local Fry's, it wasn't one of their products.
I look at GoPro cameras in much the same light as Traxxas rc cars. At many events I go to, both are major marketing players, and when I sit at home often times their commercials are run during the same breaks. GoPro cameras aren't "needed" by anyone, but due to some savvy marketing, a "need" has been created, and thus you can't walk into any Wal-mart or Best Buy, or pretty much any electronics store, without seeing their uber display. GoPro is the Kleenex of "action cameras", and now days the creator of the GoPro, Nick Woodman, is worth over a Billion dollars.
Nobody "needs" a hobby grade rc car, but with a great marketing plan Traxxas has been put on many a mainstream kids Christmas wish list. Much like a GoPro camera, Traxxas rc cars have become a highly desirable niche electronic, and arguably the name Traxxas is the Kleenex of rc. Yet… I can't walk into my local Wal-mart and pick up a Traxxas product. It seems to me that if you were to replace the stagnant car stereo area (or GoPro display for that matter) with Traxxas product at your local Best Buy, the wonderfully marketed Traxxas product would fly off the floor, thus making more cash for the big box.
So what happened, GoPro made it into mainstream stores and Traxxas did not (yet). Is it an issue of the buyers dropping the ball at the big box retailers, or has it been dropped elsewhere? Is it a case of me being too far involved in the hobby, thus making me too bias to not instantly realize what the real scoop is?
All I can say is, from my perspective, that Traxxas has gone the extra mile (or ten) to market to the mainstream and ZD Racing seems to be reaping the rewards thus far. I would love to see a Traxxas (or Losi, or AE, or Thunder Tiger, or HPI, or Axial, etc) display in my local Best Buy and Wal-Mart. As a long time hobbyist, not only would it be just freak'n cool, but it would bring some clout to the hobby for my non-rc friends and family. Oh and I would sure love being able to go buy a-arms at 3 am in the morning while also picking up the new Star Trek movie on Blu-ray. Also, it might help non-rc'ers think that our hobby is a bit more legit, not just some dumb hobby that geeks do in dark alleyways with Urkel glasses on.
To really boil it down, I'm ticked that GoPro made it and the fact the hobby grade cars at my local Fry's are ZD Racing. Uffa!
Anywhos…
We've got at least one cool review coming up this week, the Hitec X1 Touch battery charger. Stay tuned Tues-Wednesday'ish for that one, plus I hear there is one pretty decent sized product announcement coming out this week. Also, don't forget we are still giving away a bunch of tires with the Duratrax folks, free is always awesome. Lastly, for you sicko's that actually read all the way to the bottom, we are still in need of a couple more booth babes for the iHobby show the first weekend of October, if you know of anyone who might be able to stand around and look hot, shoot Brian an email.
That's it, have a great week and support your local hobby shops and bash spots when ya can.
YOUR Cub Reporter