THE Cub Report- 09.19.2011- Version: Signing Blank Checks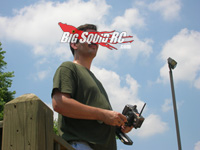 Well howdy there rc fans how nice of you to join us yet again for a lovingly crafted Cub Report.
There is only one thing to talk about this week, Traxxas and their TORC series, so here we go…
Ok, if you are a Joe Blow rc type you can tell Traxxas is kick'n every other companies a$$ on the sales room floor. So it would therefore be obvious that they should have some cash laying around. What you might not realize is just how much coin they are throwing at marketing rc to the general public. IMO the only way you could really get a feel this would be to attend one of the TORC series races.
Wow, how do I even express in words just how impressive Traxxas comes across at a TORC event. I know whatever I say here will not convey what I've seen by going to multiple TORC events, but I'll give it my best shot. So here are some of my observations from the Chicagoland TORC race….
So… you drive up to the TORC event and the first thing you notice is how enormous the venue is, you don't even want to estimate how much it costs to get a venue that large for the weekend. You hop out of your rental car and Speed Tv commentator Leigh Diffey pulls in right next to you with his. As I told Leigh, "A race doesn't even happen unless SpeedTV covers it!". What does it cost to have 2 hours of live coverage on Speed? I don't think I even want to know that either. LOL
You make it through the entrance gate and see uber 18 wheel race rigs sitting everywhere, and from the looks of the plates they've driven in from all over the country. Next to these big rigs there are half million dollar racing trucks sitting around in various stages of repair. Next to the uber racing rigs are dozens of obviously well taken care of employees working their asses off getting their rigs ready for full scale war later in the day. Also next to the uber racing rigs are the teams "pit bikes" which range from little 100cc Kawasaki dirt bikes up to hopped up $20k Rhino/Ranger look'n 4 wheelers.
You walk a little further and are almost run over by ATV, crawling and now short course racing legend Marty Hart. Marty is driving one of those hopped up Rhino looking things through the pits, and he's driving it like it owes him money. LOL.
Red Bull is everywhere at a TORC event, and if you know anything about Red Bull they don't touch anything unless they consider it to be the best. Oakley is also everywhere, and well you know Oakley doesn't show up unless an event is one of the most elite to be found. But… even though Red Bull and Oakley are there in force, they have nowhere near the presence that Traxxas has. There is no mistaking that Traxxas is the title sponsor and that even elite companies like Red Bull and Oakley are there in much smaller capacities.
You walk a little further and you see supercross/motocross legend Rick "Too Hip" Johnson hanging out talking to anyone that wants to chat. You just stand there in amazement, I mean how can one man have been blessed with so much charisma (and racing talent!)? Btw, the pits are open to the public at the TORC events, very cool. Next you wonder a bit further down the pits to see James "Bubba" Stewart and his dad getting ready for their first "big" 4 wheel race. James said he'd rather be racing Nascar but you wonder how just bored he'd be going roundey round for hours upon hours. You also wonder just what does it take to get the star of "Bubba's World" to show up and do one of your races. Nope, I don't wanna know that price either. LOL
Next you drop by the official Traxxas big rigs (there are several of them, maybe a half dozen?) and people are running around like chickens with their heads cut off, they are busy bunch of people over there. How many people are there under the Traxxas banners? 50? More than 50? All the Traxxas rigs are very well appointed, if you are hungry there is plenty of food, if you are thirsty grab something to drink, if you are tired pull up a seat and do some rc bench racing (and maybe a back rub from TRX marketing man Peter V), heck if you feel like some trigger time there are plenty of trucks to grab and play if you want. Basically if you are an rc'er the Traxxas rigs are like a slice of nirvana. Oh and did I mention Traxxas has a full scoot 2 seater short course "pace truck" to play with? Oh and, two full on pro 4 trucks? The piles of cash it takes to get those things would even impress Antonio Montana.
It's time for practice so you head to the bleachers to grab a seat. AMA 2011 rookie of the year Malcolm Stewart is sitting right behind you, so you gotta say hello and give him props for having a good season, not only on the track, but for his affiliation with rc company Hot Bodies. Practice gets under way and you realize "Wow, those trucks are some mean azz Mofos!".
After practice comes the rc racing, an event where Traxxas rounds up the full scale racers to compete again, this time just for fun with Traxxas Slash's. (I wonder how much that costs? LOL) The full scale racers have their priorities straight, they actually have fun while racing their toy rc cars. People crowd around the rc track to see what's going on and it's excellent exposure for our hobby. Everyone from the racers to the audience to the press has a fun time. This is such good exposure for rc because it's done in such a professional and fun manner. If you are a muggle and don't walk away wanting an rc car after watching the full scalers go at it then you've got something wrong with your genetic code and should be euthanized.
Next comes the actual full scale racing- the race trucks are loud, nasty, gnarly machines, some putting out close to a thousand horse and jumping 80 feet through the air. Yes, they are putting their lives on the line for our entertainment, and short course racing is yet another sport that must be seen in person to even remotely appreciate. When Johnny Greaves cases the finish line jump and you can feel it in the bleacher you are sitting on, you can only imagine what his spine must be feeling like. When one of the Lites trucks flips end over end over end, you wonder will the driver walk away or be flown out of the place? When Mike Jenkins (Traxxas owner and Pro 4 racer) really hammers the throttle on his truck you can hear (and see) how the roost is destroying the truck behind him. When Luke Johnsons truck catches fire, you know his life is in eminent danger (btw, the response times of the safety trucks must be applauded, they were super fast and kick'n azz). Only in person can you get the full effect on just how punishing short course racing is, or just how dangerous yet beautiful it can be. Oh and, they often talk about "rubbing is racing" in NASCAR, but the rubbing they do in NASCAR isn't even close to what the TORC guys do. It doesn't take long to figure out that TORC has something in common with MMA, they are both full contact sports! LOL
From beginning to end a TORC event will amaze you and when it's all over you can't wait to attend another. Overall, an incredibly well done event and one that doesn't fall short on exciting racing (capped by an epic Johnson/Greaves battle on Thursday).
So what does all this have to do with rc? A lot. Traxxas is going places that no other rc company ever has, or dare I say ever will. Traxxas has won the rc war, and to the winner go the spoils. If you are a consumer just know that Traxxas is throwing ridiculous money at marketing our hobby to help it grow. If you are a competing manufacture, you are looking at one monstrous hill to climb if you want to knock Traxxas off the top…
That's it for this week, support your local hobby shops, tracks and bash spots!
YOUR Cub Reporter