THE Cub Report, 09.22.2014, Version- Life is Like a Box of…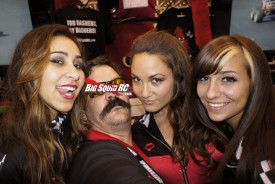 Ya know, THE Cub Report is a lot like a box of chocolates too, you just never know what you are gonna get. It can be weeks of boring "ho-hum" stuff with a rare nugget of good stuff buried here or there. This week however, is a "good" one, so keep on reading…
So… I've been teasing about some huge news at the 2014 iHobby Expo for weeks. One of the pieces of big news got leaked out late last week, so it is time to fully let the cat out of the bag.
We are releasing our first issue of print at iHobby called Big Squid RC Monthly. No, I am NOT kidding. Yes, us, BigSquidRC, is now doing print. Does that make us the biggest hypocrites in the world? Is this our "jump the shark" moment? Perhaps, but keep reading…
Why would do we do print? We've tossed the idea around for years, but we never saw a need to get into a dying media. However… we were at a bash earlier this summer and something happened to change our minds. The BSRC Bash Crew had set up a huge pit area and we were flanked on both sides by normal Joe Blow bashers. During the course of the day, the person pitted to our left came over and asked "What is up with all the BigSquid banners?". He had no idea who we were and wanted to know what all the buzz was about. Later that day, the Joe Blow basher to our right also came over wondering what BSRC was. We thought it was impossible to not know who we were, but we were very wrong. You see, both the people pitted next to us did not live on the internet. No, I am not kidding. For you or I being on the net is like breathing, it's just a part of our daily lives, but there are still people out there who are simply not on the net. The Bash Crew had a long discussion later that evening about what we could do to be seen by non-net people, and well, there is really only one way, via print.
So… if mags suck so bad why would BSRC want to do print? I said we are doing print, NOT a magazine. In fact, the LAST thing we would want to do is a mag. So here is what we are doing…
Lets say you go to your local supermarket, remember all those free multi-page flyers as you walk out? That is what we are going. Big Squid RC Monthly has multi-pages and is in color, and the best part is, it is 100% FREE. A reader doesn't have to pay a cent to pick up our monthly.
We don't want to be part of the problem with print, we want to be a part of the solution. We want to add excitement to the hobby, we want to give noobs usable information, and we want to get more people into local hobby shops. Our monthly will not be available on-line. It will not be available in grocery or book stores. No, you can not subscribe to our monthly. Our print edition will only be available in local hobby shops. We want our readers to make at least a monthly trip to the LHS if for no other reason than to pick up our print edition. While our first edition will only be available to people that attend the iHobby Expo, we'll soon have a special page on our website that will list all the hobby shops that carry it, thus making it easy to find a place to pick one up.
What about content? Expect lots of reviews, noob articles, and how-tos. We want the BSRC monthly to help make buying decisions and to also give noobs much needed introductory type information. For instance, perhaps someone is standing in their LHS but doesn't know if the Happy Flower monster truck on the counter is worth their cash? They can pick up Big Squid RC Monthly and read a quick review. Maybe a noob is in an LHS and just can't decide on what they want at all. Perhaps they take home our monthly, read it over, and it helps them decide that they would rather have a short course truck instead of a race buggy.
To boil it down… we are doing Big Squid RC Monthly to help noobs with buying decisions, to help local hobby shops get more foot traffic, to help expose non-net people to BigSquidRC, and to help add excitement to the hobby as a whole.
Ok, that cat is out of the bag but we are FAR from being done, we've still got not one, but TWO other huge pieces of news at iHobby 2014. Both are new vehicles from major manufactures that will debut in our booth at the show.
The first big unveil will go down Thursday October 2nd at 11 am CST in our booth at iHobby. This will be the biggest vehicle announcement of the year for the manufacture it is from, and it is 100% basher oriented. The second big vehicle unveil takes place in our iHobby booth at 11 am CST on Saturday October 4th. This will be the biggest release for arguably the hottest name is rc right now, and just might make the internet explode. These are exclusive vehicle unveils that you will ONLY see on BSRC. If you are at the show you can see them in person, if not we'll post info on them within minutes on our dot com. We do expect for these to crush the servers, so might I remind you that if our dot com is down, we will be posting information on both vehicles to our FB, G+, and Tumblr accounts also within minutes of the announcements.
There ya have it folks, BigSquidRC is going EPIC huge at the iHobby Expo this year and we have YOU, yes YOU to thank for it. If it wasn't for all you guys visiting our website every day, none of the things above would be possible, so Thank You!
That's gotta be enough for one week right? Have a fantastic week and support your local hobby shops and bash spots when ya can.
YOUR Cub Reporter