THE Cub Report, 09.23.2013, Version- Man in the Box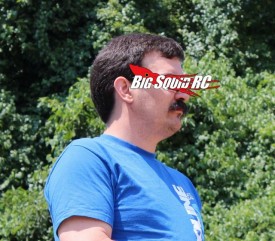 Yes, even I run out of things to complain about, so here is a rather brief and uncharacteristically happy Cub Report.
Brian won't ever toot his own horn, so I do it for him from time to time. Numbers are doing great (thanks to You our readers), and have blown well past what we considered to be the "maximum" we would ever see on the site. Our advertisers are generally happy and hooking us up with some killer scoops (with more coming soon!). We've got an insanely huge tire contest going on right now with Duratrax, the biggest contest we've ever done. To boil it down, life is busy but good around the BSRC offices. Huge thanks from the BSRC crew to all you guys for supporting the site, we all truly appreciate it.
On to a few "heads up" you should be aware of…
The 2013 iHobby Expo is nearly here, just a week and a half away. You should consider dropping by the show if you live in a 10 hour driving radius. While this years show will have a significantly smaller footprint than previous years, there will still be some cool exhibitors on the surface side of things, plus we'll be giving away 4 brand spank'n new trucks at the show (and I hear perhaps some other cool gear). Oh ya, and we might just have a new "scoop" I mentioned earlier sitting in our booth. The dates are October 3rd & 4th for industry only and the 5th & 6th for consumers. And ya, don't hit Rosemont, iHobby has a new venue in the Chi-Town metro, the Schaumburg Convention Center. More about the big show in next weeks Cub Report.
On a different note…
Our "big review" of the week is the ARRMA Granite BLX. It goes up tomorrow and you can expect our typical review full of honest opinions and broken parts. We went the extra mile to turn it to a pile of rubble, check out the review to see how many pieces it ended up in.
We've also been working on our review of the Helion Criterion 2wd buggy. I don't know if that one will make it up this week, but if not, expect it sometime very soon. Helion is a line from Firelands, and you know Gil Losi JR. is one of the main men there, it will be interesting to see just how good of a buggy it is.
Adam "The Intern" has been working on our latest Axial review, maybe I should walk over with a cattle prod and give him a little hint to finish it up. Hummmm… where did my cattle prod disappear to anyways?
I don't think we'll be doing a G+ show this week, however, we will be doing a live web-feed at iHobby and we would like to bust out a G+ show one of the nights live from the show. Check our front page for more info on these when we get the bugs worked out.
And ya, that's all I have for this week. Support your local hobby shops and bash spots when ya can.
YOUR Cub Reporter