THE Cub Report, 09.30.2012, Version: Corry Weller- Best Reason to Watch Lucas Oil Offroad Series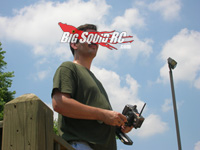 Good morning gang, welcome to yet another Cub Report, hopefully none of you are suffering from a bad case of the Monday's.
First off, congrats to Team Germany for pwn'ing the world at MXoN over the weekend. K-Roc and crew put in some stellar rides to cinch Germany's first MX of Nations win, they deserve loads of props. Team America just didn't have it over the weekend, suffering from poor starts and crashing, and well, just lack of speed on the hardcore Euro sand track at Lommel. "Sigh"…
Next up…
The 2012 International iHobby Expo is right around the corner October 11-14 in Cleveland Ohio. I am cordially inviting all of our readers to make it out to the show, not only to hang with the BigSquidRC crew in booth 401 (hint hint), but to also rub elbows with some of the industries finest like Pro-line, Horizon, Parma, MRC, etc. Thursday and Friday are industry only days with Saturday and Sunday being open to the public. Of note to our readers are our rc demo's on Saturday and Sunday- there we'll be giving away a FREE Vehicle out during each of our shows. A brand new Axial EXO Terra Buggy, a ARRMA Granite Monster Truck, a Team Durango DESC210 RTR, and a Duratrax Evader Brushless! These are some of the vehicles we'll be handing out to a lucky person in the crowd, come on out, you could go home with a new rc.
Oh and yes, I will be attending the iHobby show again this year, so if you're an industry type that has had enough of my malarkey, please feel free to drop by the booth and give me an earful or two (just expect the same in return).
Get all the iHobby Expo info HERE.
Next subject is…
Achtung off-road rc track owners- if you ever wanted to build a scale rc track, one that actually simulates a full scale track, I highly suggest you look at replicating the Reno Nevada Lucas Oil Off-Road Racing Series track. Wow, the Reno track makes me wanna cut the check for a couple hundred grand and go race full scale short course. But seriously, how did our hobby ever think it was a good idea for our tracks to look closer to Anaheim 1 than to Bark River or Reno? You don't see full scale off road trucks busting triples and quads. Scale looking tracks to go with scale looking vehicles only makes sense, and they might actually result in better racing. Yes, seriously.
And on to…
We've got a big week in store for our readers here at BigSquidRC. We are still giving away a free Hobbico vehicle this week and I hear this weeks contest is going to be EXTRA fun, be sure and sign up for a shot at a free rig.
We've got at least two cool reviews coming your way this week, one being a Pro Match 50C 5000 mah Lipo battery review, and the other being a Durango DESC210 RTR review. I've personally gotten in a ton of trigger time in with the Durango short course RTR and I'll say now that not only is it good for the track, but it is also a very respectable bash-mobile. Keep your eyes on the front page for the full review.
Also something interesting coming up later today is an interview with Lee Morrison, the lead developer for the new Horizon ECX Revenge 8th scale buggies. We gathered up a bunch of questions from the bash crew and Lee was cool enough to be quite open and frank with his responses. Some are just general questions about the new Revenge buggies while others lead to some behind the scenes insight into the ECX brand, we hope you'll dig reading it.
Speaking of the new ECX Revenge buggies, they were just the tip of the iceberg for big new releases last week. The new ECX's hit on Thursday, then the big "industry news" that I had eluded to last week, the new Team Associated SC10B hit on Friday morning, followed an hour later by the announcement of the new Thunder Tiger ST4 G3 truggy. And finally on Saturday X-Ray released full info on their new T4 touring car. I gotta say that's a pretty epic week as far as new vehicles go in our hobby.
Team Associated SC10B– The new scale short course buggy from Associated has been warmly received, I think even the hardcore racer types know that its a class that is destined to flourish. You can bash one because of its larger tires, and you can race one because it is not prone to parachute effect, and most importantly, it should be a winner on the sales floor. Scale appearance IS good for our hobby, thankfully AE finally jumped in with Losi and Kyosho to help the scale buggy class take off and to hopefully help kill off some of the un-needed UFO classes. However, the SC10B was a year and a half late to the sales floor, and like our contributor Jim said, "Looks ok, but I view it as another product from a defunct company that is still around as a sticker company. Ready-to-xxx just says built in China, I don't give a hoot what's included.". Personally, I've driven Associated 2wd buggies for the vast majority of my rc life, in fact I've driven them far more than I've driven everything else I've ever owned combined, yet because AE so late (again) to the scale buggy party I think I'm still happy with my STRC'ed-out Losi SCB.
Oh… and we hear the Associated SC10B is NOT the cool buggy coming out from AE. Their "cool" buggy, a 5th scale version, is much more scale and not that far out. But then "not that far out" is a relative term, if AE is on HPI time, it could mean years, not months.
ECX Revenge Type E and Type N- Who would have thought the little company that could would bust out some 8th scalers? When you hit a bash spot there are two kings of the hill, 8th scaler buggies and monster trucks. If you show up with anything less prepare to be run over and spit out as roost (or to be hit and broken). Now ECX is suddenly a player for king of the local bash spot. Will the new ECX 8th scalers have teething pains like some of their other offerings? Will they be a legit contender for bash vehicle of the year? We shall find out soon, very soon.
Thunder Tiger ST4 G3– Ya, so we know the Thunder Tiger monster truck took over as king of the hill in many areas of the country. How will the truggy version stack up? It's based off the same platform so I've gotta say it should be one bad ass machine, and if it's bad ass, it will sell. I can't help but think the new Thunder Tiger will not only be a beast to bash with but also another sales hit. Who would have thought 5 years ago that Thunder Tiger would have went from non-existent to mainstream here in the USA?
X-Ray T4– Every few years X-Ray busts out a new touring car platform for the hardcore on-road crowd. Unfortunately this time around not many Americans care about a new uber X-Ray. Certainly the new T4 is a huge news in other parts of the country, but as one of our staffers so eloquently stated, "That thing would be a cigarette butt to my Revo.", the American market just isn't in touring car mode right now. However, I'd still love to have one sitting on my desk just so I could marvel at its engineering.
And, one last thing…
Rumors continue to persist about a new scale, straight axled monster truck coming from Traxxas. The rumors had died off for a while, but last week they started back up again with a vengeance. I wonder how long the list would be at your LHS to get one of those off the opening order…
And that's it for yet another incredibly verbose edition of THE Cub Report. Have a great week folks, as always, support your local hobby shops, tracks and bash spots!
YOUR Cub Reporter