THE Cub Report- 10.02.2011- Version: Two Raging Thumbs Up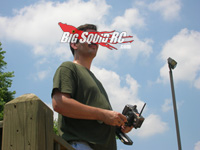 Hey it's Monday morning, time to get this week in rc started off right with THE Cub Report.
Did you know people still race on-road rc cars? Yes, I know they are dead at the local level but the International Indoor Champs in Vegas is still alive and well. Most of the "big name" on road guys from across the globe have either already landed at or are on their way to Vegas for this years IIC (which is arguably the biggest and most prestigious on-road race in the world). Tuesday is practice day, quals run all day Weds, Thurs, and Friday, and the mains go down on Saturday. First class entry fees range from $145 up to $180, with second and third class prices between $70 to $90. Best of luck to all my homies racing out there this week.
Oh wait, this is a bash site…
So the strangest thing happened to me today (don't all fun stories start that way?), I was sitting outside bbq'n and I hear a nitro rc running, but I couldn't see it. What the heck? I've never had a neighbor own an rc car before so I got pretty excited. I hopped in my full scale scoot, rolled down my windows, and let my ears guide me to the source of the raging shrill. Didn't take long as about a half block away I spotted a monster truck (with no body on it, true basher style) blasting up and down the street next to mine. At the helm of the naked Savage looked to be an 8 year old kid. I slowly drove by, gave the kid Brian's patented "two raging thumbs up" and went on my way. The kid had a big smile on his face and looked to be having a fantastic time. He was obviously a good engine tuner as his engine ran for over 10 minutes without a hiccup. Sweet! Now I have someone to tune my nitro engines!
ARRMA… yes, I know that name is pretty new to the rc scene but they are off to a promising start and they are aimed right at the bashing crowd. ARRMA has some mighty good looking product, original looking product that doesn't look ripped off from some old AE or Losi design. Kudos to ARRMA for putting out some cool looking news designs instead of going cookie cutter. Brian has already held one in his hands but expect me to be the first person to actually drive one (read- break one). 🙂 It's pretty rare now days when I see something I really want to pull trigger on but I really want one of those new ARRMA buggies parked in my rc garage.
Speaking of cars I really want to drive… the last one was the Horizon/Losi SCB. My SCB still gets lots of looks at the track, but until either AE and/or Traxxas puts one out that Losi is gonna be a dead format (and that would be a tremendous shame). We all know scale looks is one of the keys to the growth of our hobby, the Losi SCB (and Kyosho Desert Buggy) format is good for our hobby, AE, HPI and Traxxas really should hop on this one.
Who's hot right now? Axial that's who, they are kicking butt on many a sales floor. Unfortunately I am soooo not into the whole crawling thing. I've been keeping my fingers crossed that someday the UPS guy drops off some ridiculously scale Axial short course truck to my house… I am still waiting. "Sigh"
Our great buddies over at ECX officially announced their new short course truck named the Torment. We've had good luck with Electrix (now ECX) product here at BigSquid, let's hope the Torment is on par with their previous products.
Speaking of Horizon… wow is their new teaser video bad. Do they really have a chic wearing a lab coat who works in a tin shed designing their new products? I certainly hope not… just say'n….
My review of a Viper RC Solutions speedo and motor combo should be going up any day now. Having never driven a Viper system I was pretty stoked to get the chance to pull trigger on one. I've seen their gear at trade shows (and at tracks) and the Viper gear always looked immaculate. I know there is no correlation between looks and performance, but it's especially nice when a product can deliver both (need I mention Ferrari?). Does the Viper kick butt? Find out soon, keep your eyes on our front page.
Mark your calenders (ok, I know you already have, so you can skip this part) for October 22kd and 23rd at Rosemont Convention Center in Chicago for this years iHobby show. This is the last year for the show in Chicago so if you are local and have never made it this year is going to be a lot shorter drive than Cleveland next year.
That's it for this week, support your local hobby shops, tracks and bash spots!
YOUR Cub Reporter