THE Cub Report- 10.04.2010, Version- I Can't Believe It's Not Butter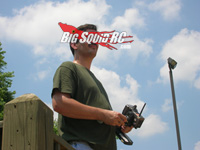 OMG does time fly. I can not believe it's just 16 DAYS till the iHobby International Hobby Expo! We always take The Show very seriously, as BigSquidRC always seems to get a huge boost in numbers after the show, and this year, we are pulling out ALL the stops. We've got a 20 ft by 10 ft booth reserved, we are the sponsor of the official iHobby rc race track, we'll have 3 ridiculously hot babes working our booth (along with 6 pretty ugly guys, LOL), AND, we've got several big surprises that I'll bust out in next weeks Cub Report. Dealer only days are October 21-22, and consumer days are the 23rd and 24th. Nothing is more fun than walking around a gigantic expo hall filled with all your favorite hobby gear, not to mention it's cool meeting all the cool peeps that work in the industry. If you've never made it to The Show, make this year THE year! Click HERE for all the info!
So just what did the entire BSRC crew do over the weekend? No, we weren't slack'n around jumping RedCats off the nearest bridge overpass, we were working on our 4S HardCase Lipo battery shootout. Categories remain the same for this shootout- Weight, On Track Driving, Fit, Capacity, Top Speed, Price, and Voltage Under Load. For this shootout we had 5 contestants- Turnigy, Team CheckPoint, Ace, Thunder Power, and Venom. Initially I was hoping to have the shootout written up by the end of the week, BUT (and of course I gotta put a BUT in here) it's going to be a couple more weeks before I can get it posted. No, I'm not wasting time harassing our lovely secretary like usual, the delay is because we are waiting for our West Mountain CBA to get here so I can complete the Voltage Under Load test. That's right, we'll be using the most uber discharger on the planet for this shootout, complete with graphs and all the juicy data. 🙂
Traxxas released info on their 16th scale Rally VXL car last week. Who would have thunk Traxxas would be putting out a rally car? Overall, it looks like it might succeed where so many others have failed- to actually make the rally genre popular in the rc hobby. The Rally VXL is based off the popular (and durable) 16th scale Traxxas platform, and comes with their VXL brushless system, so it should be nuclear out of the box. Hell, even the internet pundits haven't went into total meltdowns, the car has received generally a very warm reception on-line. Now if I just knew what they'd be introducing at iHobby…… hummm…. I'm "guessing" something significantly larger….
Doesn't everyone love old school rc vids? I know the entire BSRC crew does, and THIS is as good as those get.
While we were at Dewey's RC in Springfield Illinois over the weekend working on the 4S Lipo shootout, we also started work on our Transmitter Shootout! Futaba 4PKS vs Spektrum DX3S vs Futaba 3PL vs Traxxas TQ 2.4 vs Tactic. No we didn't, oh YES we did! You are gonna dig this one folks! We've still got more testing to do on this one, but just know it's on the way.
That's it for this week, support your local hobby shops, tracks and bash spots!
YOUR Cub Reporter