THE Cub Report, 10.06.2014, "I'd Back That Up" Edition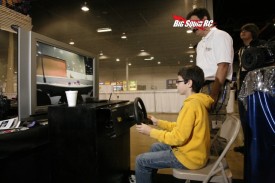 Hola everyone and welcome to this week's iHobby edition of THE Cub Report.
So how was the show? It definitely had its ups and downs…
The downs-
1. Very low dealer attendance on the first industry day (Thurs), and even worse on the second (Fri). Seriously, it was like a ghost town in the expo hall.
2. Incredibly low rc manufacturer attendance.
3. Parking on Sunday was a mess. Mecum has a huge auto auction the week after iHobby so they started setting up huge tents in the parkling lots early Sunday morning. This lead to thousands of people that literally had to park in Connecticut to attend the show. A trade show is generally a lot of walking by itself, you don't need a 3 mile jaunt to get warmed up.
The ups-
1. Once again the consumers in Chicago showed they care about the hobby with solid attendance on Saturday and Sunday. We were told the "official" number for consumer attendance was right around 20k, but to me it still felt somewhat softer than that. However, at least the aisles were fairly full for hours at a times during the weekend.
2. Lots of manufacturers selling to the public. Last year there were a lot of booths selling, this year there were even more.
3. I am not going to toot our own horn too much, but we weren't messing around at the show. We had some epic demos, introduced the Pro-Line Pro-MT and Axial Yeti XL, and busted out our print edition BSRC Monthly. I have no freak'n idea how we are going to top that at the next show we attend.
On a personal note, even with our booth having a HOF show, I left the show with a bad taste in my mouth. The iHobby show in general is a shell of its former self, and is especially sad on the surface rc side of things. It's truly sad to see how it has withered away. At a time when the industry needs some serious marketing, it's just another tool that is being laid to waste.
The manufacturers don't want to support the show anymore, which results in the dealers not showing up, thus destroying the once robust dealer days. On the consumer side of things, I had more than one person come up to me torqued off because they felt ripped off by the show. They went to the effort to come to the show, paid hard earned cash to get in, but there wasn't much on the surface rc side to see.
Hey, in the past I've flamed away at manufacturers that didn't make the show, but I've learned the reasons why they quit coming to iHobby and they do have validity. However, without them the show can not and will not exist. We have been told by more than one source that there will not be an iHobby show in 2015. They are talking about "taking a year off" and perhaps moving it to another city in 2016. There are many other trade shows/conventions that are doing better than ever before (CES, the Comic-Cons, etc), it certainly is possible for the rc version to do the same. Trade shows are a fantastic tool when done right, I seriously hope someone in the rc trade biz gets their act together, our hobby could use it right now.
One more note…
Mark your calenders and pack your truck full of rc gear, our 10 Year Anniversary Bash is going to be EPIC. It happens Sunday October 19th at Leisure Hours in Joilet Illinois. Not only will we be giving one of the super-uber Futaba 4PX transmitters, but we'll also be giving away an Axial Yeti XL (you will be the first owner on planet Earth!). All proceeds are going to St Judes and it is going to be the biggest bash we've ever put on so please come out and join us.
That's it, support your local hobby shops and bash spots when ya can.
YOUR Cub Reporter