THE Cub Report, 10.07.2013, Version- Schaumburg or Bust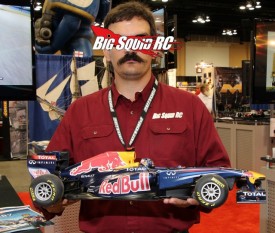 Hello everyone out there in rc land, you have landed on THE Cub Report, the column that everybody, and I mean everybody, reads every week.
I'm soooo burnt crispy on rc. Back in the day I thought I went hard with rc, but since being shoved even deeper into the industry, I have been spending way, wayyyyy too many hours on rc. So…. I'll try to keep this CR short this week (but I think we all know how much I like to ramble on).
First off, I'll boil down iHobby. The show was much smaller this year. The footprint was smaller allowing the people running the show to fill up all the space, so much so that they could have used more space. They ran out of room for things like the rc car try-me track and an area for the drift guys to run.
Attendance of dealers on the industry days was soft, no doubt about it. Not horrific, but still very light. On a higher note, consumers showed up in force on Saturday. The number we were shot was over ten thousand consumers hit the doors on Saturday, which is solid all things considered. On Sunday consumer attendance was softer, but then that is usually the case. As far as attendance goes, overall it would have to be looked at as soft.
On the industry side of things, I talked to companies that had a fantastic show, and others that were still trying to justify the expense. From a BigSquidRC perspective, we knocked it out of the park. Seriously, we once again had a fantastic show on every front. Our demos were gnarly, we met and got to talk to tons of fans, and we landed a couple big deals of our own. I've always said you only get out of iHobby what you put in it, and well, we put a ton of time/effort/cash into iHobby and it has never let us down.
Btw, the expo was held at a nice venue with a fantastic location that was attached to a very nice hotel. Seriously an awesome spot to hold the show, mad props to whoever made that happen.
Different subject…
So what was the big hit of the show? IMO it was the Horizon/Spektrum Active Vehicle Control System. Many people might very well overlook the system, or maybe not even understand it at all, so let me paint you a picture. Ever driven a high powered rc that was hard to control? Ever plop it down on a slick dirt surface? Ever spin out every time you rolled on the gas coming out of a corner? Ever spun out going into a corner because the surface was so slick? Ever pound the gas from a dead stop and could not drive in a straight line?
For years the technology has been available to fix all that, however, no company has decided to pull the trigger and push the technology. Today you can look at the rules the idiots at ROAR have in place, they have gyros banned. You can also look at current drift comps where gyros are also banned. They have banned the technology that turns your favorite hobby from something that makes you curse, into something that is much less frustrating. All those stupid high bite sugar tracks? Used to make it easier to control over powered vehicles. They won't legalize stability aids, but ya sure, go out and pour a ton (literally) of sugar on your track.
Anywhos… Spektrum introduced their AVC system to the world at iHobby. First off props to Horizon for saving such a huge exclusive for the show, and secondly, even bigger props to Horizon for having the balls to finally put out a system like that to the public. Seriously, it was a big move, and they went all in. Also seriously, the AVC system has the potential to be as big of a "game changer" as 2.4GHz radio systems, brushless, or Lipo. Big statement for sure, but it has that much potential to change the hobby for the better.
I got a chance to wheel an AVC equipped Vaterra Halix at the show. The Horizon crew took us down to an area of extremely slick polished concrete and set us loose to see what we thought. From previous experience driving "assisted" vehicles, I can tell you it didn't make quite as drastic of an effect as it would have in a two wheel drive, but still, it did some remarkable things. For instance, we could pin the Halix (on 3S) from a dead stop on polished concrete and it would drive in a perfectly straight line. You could see the AVC kicking in to keep the truck perfectly straight. In corners, you could pin it hard and the truck was nearly impossible to get to spin out. The AVC would cause a somewhat wider line through the corner as it kicked in, but even pinning the apex on 3S you felt pretty much in 100% control, something that simply was not possible when the AVC was turned off. To boil down my test drive, the AVC was pretty dialed on an ultra slick surface with the Halix, and it should be even more beneficial to 2 wheelers.
I've always been early to adopt new technology. When local hardcore racers simply refused to switch to brushless and Lipo when the tech started going mainstream, I had already been running them for over a decade. When local hobby shops were too scared to even bring a Lipo battery into their store, I had been running them for years. When the "establishment" told people running gyros in your car was stupid and illegal, I had once again been running them for decades. I don't understand why new tech is so freak'n scary to old school hobbyists, luckily I've always dove in head first and enjoyed the benefits. If you are some cranky old fart who thinks your old Twister 12 turn is still the fastest motor you've ever driven and that stability control aids are ridiculous, I will take extra pleasure blowing by you on the local dustry/slick track with my Spektrum AVC equipped rig. But seriously, now that ridiculous power levels are common place in rc, stability control isn't stupid, it's a necessity.
That's it for this week, support your local hobby shops and bash spots when ya can. Oh and, don't be scared to pop that Spektrum AVC system or gyro into your truck.
YOUR Cub Reporter