THE Cub Report- 10.08.2012, Version- Cinder Block Yard Art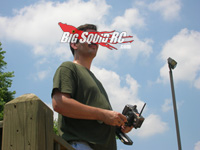 Hola amigo's, yes, you've found yet another Cub Report. I hope you are having a most uber Monday morning, and wish you a great rest of the week.
First up…
NASCAR isn't racing, it's a redneck WWF soap opera gone mad. Need proof? Look at the last lap from Talladega over the weekend. Soap opera's are all good fun until half the pack gets killed. Seriously, that was ridiculous. It was a far cry from F1 and the best road circuit on this planet (or any other), Suzuka in Japan. Real track, real cars, real racing, just say'n…
Next…
iHobby week has Finally arrived! That means a busy week for us (aren't they all?) and what I'm sure will be an outrageously good time in the greater Cleveland metro area. Days will be filled with meetings, car demo's and talking non-stop to you guys. Evenings will be filled with more meetings, black and blue fillets, and some nice (read- single malt) beverages. The iHobby International Hobby Expo is as good of a time as You make it, ours ALWAYS kick a$$, and we hope to see you there. Thursday and Friday are industry days, with the doors open to everyone this Saturday and Sunday. Come on out and SHOW all the companies that didn't make the trip to the show that you are willing support the hobby (even if they aren't).
Ya, and don't forget, we are giving away a LOT of gear at the show. From stickers to t-shirts to complete vehicles, I don't think you can drop by our booth and walk away empty handed. Also, the BigsSquidRC booth will be well staffed with booth babes. Feel free to ask'em rc related questions (hint- they won't know the answers, but there lies the fun) and get your picture taken with them.
And….
"World Exclusive" must now mean "BigSquid ran the story a day before we did". Just say'n that if a media sources credibility is already blown to hell, it doesn't help them to scream "World Exclusive" when every news source on the planet has the info. It looks bad for them, it hurts their street cred even more, and the general rc populous thinks they are flashing twelve o' clock.
On a slightly different subject…
So… Texan powerhouse Traxxas announced their new 1/10 Rally car last week. I don't know if you realize it, but there is now a full blown nuclear arms race in the rally arena. No, I am not kidding. How so? Well of course Traxxas has their new Rally car "based" off the Revo and Slash 4×4, which IMO is a pretty damn stout backbone. Thunder Tiger has their new ER-4 G3 based off their insane MT-4 G3 monster truck, HPI has their Block rally car (has that thing ever shipped?), and Kyosho has their DRX VE rally cars.
First off, because of their heritage, the Traxxas and the Thunder Tiger are going to be freak'n beasts. Can you imagine converting a Slash 4×4 to a rally car using big brushless power? You won't have to imagine long because soon you'll be able to walk in and buy it. Can you imagine converting the Thunder Tiger MT-4 G3 to a rally? Holy freak'n smokes, the mere thought of that leaves some pretty gnarly images in my brain. Those two rally cars are no jokes, they are going to be WFO bash machines.
Secondly, I'm no spring chicken, I remember all the previous times the rc biz has tried to force rally cars down the throats of the general population- they were miserable failures, but things are much different this time around. Guys like Travis Pastrana, Tanner Foust, and Ken Block are rockstars with their rally cars and the Traxxas name wasn't in the game before. The Traxxas name alone is enough to put more Rally cars into consumer hands than all the failed efforts combined. This time around, because of its scale realism, its mainstream popularity, and Traxxas get'n in the game, rally just might catch on.
Which makes me think- 5 years from now, might we see the vast majority of the UFO classes (for the truly obtuse- 2wd buggy, 4wd buggy, and "stadium truck") gone, replaced by Pro 2, Pro 4, Pro Buggy, and Rally at your local track? It might sound improbable to all us long time hardcore guys (and a hard pill to swallow), but it could happen. Hell, it might VERY well happen. The only constant in life is change, and times are certainly a changing…
That's it for this week guys, as always, support your local hobby shops, tracks and bash spots, and see ya at the show!
YOUR Cub Reporter