THE Cub Report- 10.10.2010, Version- ROAR Sucks and Get'n Ramp'd For The Show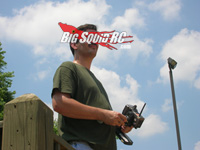 Hello good people of the rc world, and welcome to yet another vitriolic edition of your favorite weekly rc column….
So, one of the guys in the ROAR camp sent me another scathing email, which I thought was quite odd as Cubby's Wheel Of Doom hasn't landed on ROAR for weeks (a wheel I spin to determine who I'm flip'n out on that week). Mr Know It All ROAR guy was all sorts of torqued off on something I had said, and it wasn't even related to racing. Some people just have to keep their blood pressure up I guess. You'd think he'd be all ramp'd up on the upcoming ROAR elections, where each candidate is worse than the next for the overall health of the hobby.
The other day, while having a quite deep discussion with RC Car Action mags Jason Sams, we got on the subject of racing as a whole. Now normally most of the mag guys are all ROAR gung-ho, but Sams actually could see some of the mud in the water. While he's knee deep in the industry, he could look at things from a wider prospective than most in that position and had some pretty wild (by ROAR standards) ideas for making racing better at the local level. I was amazed that a mag guy would feel that way, but that's exactly what it's going to take to hoist racing up to the next level. Period.
Ideas/rules that cater to the current crop of card holding ROAR members are freak'n kryptonite to the masses that you need to bring in to Elevate racing to the next level. Period. And as outrageous as this might sound, some in the industry believe the best and easiest way to elevate racing is to hand the reigns over to Traxxas. No doubt Traxxas has a handle on the industry right now, and no doubt the way they'd run things would cater to noobs and less serious hobbyists. Personally, I'm still a big fan of Carlton Eppes RC Pro Series. Given some actually rc industry support, and one large corporate sponsor (like DC Shoes, Monster Energy Drinks, Pepsi, etc), I could see the Pro Series revolutionizing racing.
Now on to a brighter subject……
As I mentioned last week BigSquid has some pretty uber plans for the iHobby expo. So just what are we up to???
Live web-cams from The Show! BigSquid will have two live cams from the show- the first perched high atop our booth, and the second a Booth Babe Cam. Am I kidding? Hell no! Yes, we'll have a live booth babe cam from the show. We'll have links to both cams posted prominently on our front page.
Free Traxxas Trucks! We have several wayyy super dope trucks to give away during our track demo's. In fact, four trucks total, one for each of our demo's on the consumer days (Sat and Sun). All you have to do to win is be in the crowd.
As mentioned last week, not one, not two, but…. wait for it…. Three Booth Babes! Eye candy is always nice to have around, and for all you BigSquid readers, just drop by the booth and have your picture taken with them, free o' charge of course.
Mountains of free stickers (as usual)! Show you are damn proud of bashing by plastering your ride with BigSquid stickers.
Hourly updates on our main page. From the scoop on new products intro'd at the show, to pics of hot chics that caught our eye, if it's worth covering, we'll have it up in minutes.
A booth full of freaks. Of course the head honcho Brian will be there all four days, as will Colorado Jeff, Test Guy Jim, Wrench Dude Bill, and Pro Driver Tim. Part timers who will just be there for the consumers days are Craig The Ramp Builder Guy, Micro-Man Wes, and Chunky Jason. YOUR Cub Reporter will also be around the show, but if you don't see me there I've already retired to my room and am relishing an ice cold bottle of Dom 98. So basically, our entire crew will be in full effect at the show, so make it a point to drop by and shoot the bull with us.
On a different note…
Last week I posted a link to a vintage rc vid. One of our readers sent me a link to a True vintage vid. Not only is this vid from the very beginning of our sport, but gives insight on how ROAR was actually born. Most of this vid was shot before I was even born, and I'm no spring chicken. Click HERE for some cool vid and a quick history lesson.
Once again my verbose nature has caused me to run long, so total props to you if you made it down this far, you are truly BigSquid material. Thanks for reading, and support your local hobby shops, tracks, and of course bash spots!
YOUR Cub Reporter