THE Cub Report, 10.15.2012, BOOYAH iHobby Edition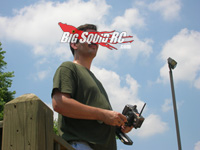 Hey guys (and gals), happy Monday and welcome to THE Cub Report. I hope everyone has a productive and problem free week (I like to dream big, what can I say?).
Shall we get right down to it?
So…. how was the show (for those who don't know what I'm talking about, the iHobby Expo)? IMO the one word answer would be "slow". However, it certainly had its high points and its low points.
The dealer days, Thursday and Friday, had extremely light turnouts. I don't have the legit numbers on the show attendance, but I'd put dealer attendance at about a quarter of what iHobby would normally pull in Chicago. Seriously, there are several things that can be done to increase dealership participation, and they ALL need to be done because Thursday and Friday were both a ghost town at iHobby 2012.
The first consumer day, Saturday, had good attendance. There wasn't much of a line at show open to get in, but a steady stream of consumers just kept coming. Isles were full and hard to walk through by noon, and the lines to get food were fairly deep. One of the exhibitors told me they felt attendance was greater than Chicago on Saturday, while another exhibitor in a different part of the I-X Center told me he felt the show felt soft. Certainly the booths closest to the show entrance had more congested isles than those that were farther away but overall, IMO Saturday was a success. The Cleveland area consumers came out in droves and kept folks working in the booths busy for most of the day.
But… consumer attendance fell off on Sunday. Some blamed it on the 1 pm start of the Brown's home NFL game, while others said they didn't see much local advertising for the show. Any which way, attendance "felt" about half as much as it had been on Saturday.
Overall, the show had a solid Saturday, but was quite slow the other days.
So… who had the best booths? Yes, I am well beyond biased, but I thought the BigSquidRC booth was pretty dialed. We had lots of uber new Thunder Tiger's, Durango's, and other Hobbico products, as well as some of the most lively booth babes you'll ever see. Our demo's seemed to go well and we gave away a lot of new product, we try to hook you guys up whenever we can. Special uber thanks go out to Adam "The Biebs Intern", Craig "The Uber Ramp Builder", Tim "Pro Driver", Bill "The Wrench", and "Editor" Brian for all their hard work and long hours. Our booth was an incredible success, props to everyone involved in making our show a great one.
If there was a "best of show booth" for Cleveland iHobby it would probably have to go to Horizon. They had a huge booth, a cool demo track that was constantly busy, and a small army of staff in attendance. Horizon is making a big push right now and it showed at iHobby.
Pro-Line also had a kick ass booth at iHobby. Their booth looked totally trick, just like their products, and their staff was both incredibly knowledgeable and approachable. Pro-Line was showing all their new gear, as well as giving out some of their sweet 30th Anniversary swag. Props to Pro-Line their kick ass booth and their support of the hobby. One last note about Pro-Line- it sounds like they have a big announcement coming in a couple of months. Wish I could say more…
Traxxas and HPI were not there, perhaps something you should remember the next time you are buying a new vehicle. Yes, there were many other companies that didn't support the show, but those are the big two that consumers seemed particularly disappointed for not showing up. People kept asking, and all we could do was shrug.
Cleveland is already locked in again as the venue for iHobby in 2013, personally I am looking forward to it. The weather was beautiful while we were in Cleveland, the I-X Center is an incredible venue to hold a show in, and Cleveland hobbyists showed they will support the event. 2013 is the time certain missing "leaders" in our hobby to man-the-f-up and support their industry trade show and all the Cleveland area hobbyists.
That's it folks, support your local hobby shops, tracks and bash spots!
YOUR Cub Reporter