THE Cub Report- 10.17.2011- Version: Full Sequence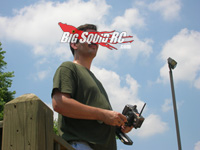 Hola rc tifosi, welcome to your weekly Cub Report.
It's all about iHobby this week. The iHobby show is the largest rc expo in the good ole' U S of A, and 2011 is its last year in Chicago. Those that live within driving distance of Chicago aren't dig'n that news, but those in the Cleveland area are. 2012 will be the first time the iHobby show will make its home in Ohio. I for one will miss the show calling the Rosemont Convention Center its home, but I'm looking forward to seeing the changes for 2012.
So… as I teased last week that BigSquid has two new (and quite uber if I might say so myself) things going on in our booth for iHobby 2011. The first is… wait for it… one very kick azz rc movie being shown in full on 3D. We shot a bunch of high energy rc footage in 3D and we'll be showing it at iHobby on a huge 10 foot screen in our booth. And no need to bring 3D glasses with ya, we have a few thousand of them to give away. 🙂 Drop by our booth, pick up your 3D glasses and be prepared for a full on 3D rc thrillride.
Big uber surprise #2 at our booth is- Remote View Driving. What the heck is that? Well….. you show up to our booth and you'll see a full size driving "cockpit"- a full size steering wheel, gas and brake petals, everything you'd need to drive a full scale car. In front of the Steering wheel is a hi-def monitor. What you see on the monitor is a live video feed from a camera looking out of the windshield of a 10th scale short course truck sitting on the BSRC demonstration track. You sit down, buckle up and actually get to wheel that short course truck via remote drive by wire. Yes- it's some crazy high tech, and more importantly, LOTS of fun. You've never driven an rc car like this before, it's something you won't soon forget. The lines will be long, so get to our booth early!
Brian is slammed getting everything ready for the show… and… he's got me working far too hard as well, so I'll keep this CR short and sweet. See you all at the iHobby show- Thurs and Fri on dealer days, and Sat and Sunday (adults $12, kids 10 and under free, 10 am to 5 pm) for everyone else. See ya at the show, and remember, support your local hobby shops, tracks and bash spots!
YOUR Cub Reporter
Ps- Don't forget to watch our live video feed from the show Thurs-Sunday!
Pss- We'll be posting an insane amount of rc news from the show each day, I hope you feel like you are actually there!