THE Cub Report, 10.21.2013, Version- Professional Provocateur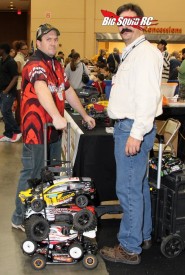 Good morning rc world, it's Monday, meaning time for THE Cub Report.
First up, some site news…
We've got another big contest going on, this time with Pro-Line. Pro-Line made rc bodies, tires, and accessories for 30 years before they decided to pull trigger on a full scoot kit, the PRO-2, and we are giving away a very special one. We are giving away our review truck, the first PRO-2 kit to be shown to the public, hand assembled by yours truly, and one of only two initially shot out to the media for review. Having a chance to win one of the first two PRO-2 trucks to head out the door from Pro-Line is a pretty uber contest. Oh and, it even comes with Easter Eggs like a hand written note from me. What does the note say? You'll have to win the truck to find out. Oh and, that isn't the only extra goody inside the box.
Our Vaterra CHP Camaro review will finallyyyy be going up today, and our review of the ARRMA Raider BLX goes up mid-week. We've also got a pretty cool write up on a vehicle we call the Axial Exo TERROR Buggy coming up later in the week. What is an Exo TERROR Buggy? Tune in Thurs-Friday'ish to find out.
Ok, I'm done teasing now, on a different note…
I was cruising our FB page the other day and saw one particularly vitriolic response to a new product announcement. Now normally you might think, "Wow, some hobbyist out there must really not like that new car!", however, I instantly thought something much different.
You see, since we opened the "comments section" on our dot com, it's really easy for us to see where the comments are coming from. We've found that some, actually a surprisingly large portion, of the negative responses to new products are posted from servers of a rival manufacture. Before we had access to such information, I would have assumed that most negative comments on various rc sites were coming from legit Joe Blow hobbyists, now I know better.
So why am I even bringing this up? Well, simply to inform you. I have the luxury of writing about whatever I feel like here, and I don't think any other media source is going to fill you in on such a thing. So… the next time you are cruising the net and see someone blowing up negatively, know in the back of your head it could very well have been a competitor that wrote the nasty comment. If you are cruising a Sony PS4 message board and someone is flipping out saying how bad it is and only an idiot would buy one, it might be a consumer, but don't discount the fact it might be one of their competitors. When you are viewing comments about a new rc product and one dude is in full meltdown mode about how bad it sucks, don't forget it could very well have been posted from their direct competitor.
That's it for this week ya lunatics, support your local hobby shops and bash spots when ya can.
YOUR Cub Reporter