THE Cub Report- 10.22.2012- Version: Benchmark For Hypocrisy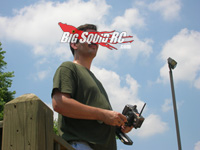 Hello everyone out there in rc land, welcome to another Cub Report and I hope you all have a kick ass week.
We've got another busy week here at BigSquidRC. We'll be giving away yet another new rc at 10pm CST tonight, so get your entry in now. This weeks entry has to do with whether or not you listen to podcasts. All you have to do is tell us whether or not you are a podcast listener (of any type) and you are officially entered. Personally I have zero time for them, but we have staffers that can't enough of them. It doesn't matter if you like them or not, we are just looking for some data on the subject, nothing more.
Btw, it looks like we'll be extending the amount of vehicles we'll be giving away to nearly the end of the year. 2012 has been a banner year for give aways here at BigSquidRC, we've already given away well over 10 Grand worth of prizes and we aren't stopping any time soon. Read BigSquidRC and win stuff, ya gotta love it.
To get back on point, Monday is THE Cub Report and a car give away, then we have Review Tuesday. This week we'll be posting at least two reviews. Tuesday will feature the review of the behemoth Dynamite Passport Ultra Duo. If you aren't familiar with it, it's a 200 watt x 2 AC/DC charger from Dynamite that has tons of features and is generally a freak'n beast. However, we'll be doing something a bit interesting with this review, we'll actually be testing the Quality of the charge that it puts into your pack. How would someone go about such a thing? Well… we charged a Pro-Match 2S test Lipo (multiple times) on both the Dynamite and on a Hyperion 720 iNet3 (which we consider to be a great reference charger), then we did discharge tests on a West Mountain CBA to see how voltage and run-times compared. I really hate it when reviews are full of opinions, with this review we can actually back it up with data whether the newest Dynamite gives a quality charge or not. I will say (read- tease) one of the two chargers yielded higher voltage and longer run-times, you are gonna have to read the full review to find out which one. 🙂
Later in the week we'll be posting our review of what is generally considered to be the reference uber-top-of-the-line Futaba 4PK Super R transmitter. Life is all about uber-bashing now days, who can be a high end basher without a high end transmitter? Oh and yes, we did drop tests with it. It took me 3 drops from over 4 feet before I finally felt bad about trying to destroy such an elite piece of electronics. Did the Futaba survive our drop tests? I am such a teaser, you'll have to read the full review to find out later this week.
The Wednesday Interview isn't in hand yet, hopefully we'll get that one together for you guys. 🙂 The people we are interviewing seem even busier than we are which can sometimes make hitting a deadline lots of fun.
Thursday is ASK Cubby. We've been getting records amounts of emails lately and some of them are even some positive! Shoot me your questions/comments to Cubby at BigSquidRC dot com.
On a different note…
Have you seen the new JConcepts "Scalpel" body for the Slash 4×4? It's a body made just for running your Slash 4×4 high speed. It's not especially handsome, however it is aimed right at uber-bashing. Amazing how the industry has changed lately. A few years ago the after-market community wouldn't touch bash machines with a ten foot pole, now it seems to be completely the opposite. Any which way, it's nice to see some of the after-market companies making products just for the bulk of rc'ers, the bash crowd.
And finally…
We've started our internal discussions on just which vehicles are in the running for our "Bash Vehicle of The Year" award. Early in the year we didn't have any solid contenders, but lately that has changed. The ARRMA Granite has to be near the top of our list, it's a tank and won our 2wd Monster Truck Shootout. The Axial EXO Terra Buggy is up there, as is the Durango DESC210 short course buggy. And better still, we've got some pretty tough contenders for the title being reviewed right now- vehicles like the new Thunder Tiger truggy, the new Thunder Tiger Rally Car, the new updated ECX Torment, and the Helion truggy (among others). Just a couple more months left in 2012 and we'll be testing right up to the very end before we declare what vehicle was truly the best of the year.
Ok, that's it for this week gang. Support your local hobby shops, tracks and bash spots!
YOUR Cub Reporter