THE Cub Report- 10.25.2011- Version: Rumspringa!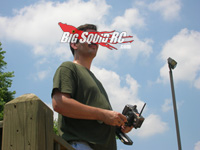 My goal for iHobby week was not to punch anyone… and I was successful. As much as I hate trade shows, and as much as I hate having to sit around during long boring meetings I actually had a fantastic time spending 5 days in the Rosemont Convention Center (of course the absurd amount of money Brian was paying me to be there didn't hurt). So here is Cubby's official iHobby breakdown…….
Traxxas– God bless Traxxas, they are the best ambassadors in the history of our hobby. The moment you walked through the doors of the convention center Traxxas had their "try me" track up and running. Anyone could come up and drive a genuine "hobby grade" rc car, there is no better way of showing off our hobby to the masses than that. I can't say it enough, thanks Traxxas for all you've done for our hobby.
Traxxas part deux– Every manufacture has new product coming down the pike, I mean they'd go out of business if they didn't, so it wasn't any surprise when RCCA posted some moronic "Traxxas has something big coming" news last week, duh. Not to mention it was iHobby week, the one week of the year most likely for manufactures to unleash "big" news. Well… Traxxas didn't show much new at iHobby, certainly nothing "game changing", but… we were able to twist some arms and find out some actual scoopage on the new release- it's gonna be big and it's gonna set ya back close to a grand. Our post lead to dealers from across the country calling Traxxas attempting to place pre-orders. So let's think about this for a second- dealers from around the country are pre-ordering a new Traxxas product (that cost close to a grand) without even knowing what it is or even when it will ship. That is kinda mind blowing, but it shows just how dominant Traxxas is now days.
Losi– I got some serious wheel time in with their new Mini 8ight buggy. Their is a greater chance the Earth will stop spinning and we'll all go flying off into space than of BSRC getting a unit for review, but I will say it seemed to drive well and took a pretty good beating in the hands of all the noobs wheeling it on their test track.
Associated– They didn't show. They used to show. Maybe they don't care anymore? (I think you can safely remove the word "maybe" and the "?" from the previous sentence.)
Kyosho– Of course they weren't there, I mean it's hard to tell if they even sell product in the states anymore, but…. rumor around the show hall was they have either linked up with Horizon or are very close to a deal. It's no secret Horizon has lost several big names in the last year (AE, HPI, Axial) and getting exclusive distribution of the big K would be great move for both companies.
GP- Great Planes had an uber new booth right up front. Myself and several others from the BSRC crew had a great time playing with their remote control tanks and hand crank slotcar demo's.
Duratrax– If you haven't noticed there is a whole new attitude over at the DTX and it showed at iHobby. They are seriously working their butts off to put out the best product possible at a low price point and they've come a longggg ways in the last year. They've seen the movement away from racing that has went towards hardcore bashing and are diligently working on putting out trucks that are right on the edge of what consumers are looking for.
ARRMA– The new ARRMA line made their debut in the GP booth and had a great looking display. While you might not have heard much about ARRMA yet but they've got their stuff straight and look like they are going to be a major player in the market given a couple more years.
ECX (formerly known as Electrix)- Some people might overlook this line entirely because of its pricepoint but they had a nice section in the Horizon booth and are obviously gaining traction in the marketplace. If you are a seasoned hobbyist, the ECX vehicles are the perfect backyard "bash-mobile", if you are a parent they are a perfect choice for your kids, or if you are noob looking to get in they are arguable the best and most affordable choice on the market. We've beat the crap out several ECX products and all of them have lived. As long as their product can continue to take a severe beating it's going to take off. Seriously, I don't think the time when ECX outsells Losi is as far away as most industry types think. Btw- look for a full review of the new ECX Torment later this week here on BSRC.
Speed Passion– The SP crew was out in full force showing new product and generally putting a smile on everyones faces. Their new 4wd short course truck looks sic (in a good way of course).
Tekin– The Cambell crew was in full effect, they've had a banner couple of years, and they were there showing their support of the hobby. I think Ty had the fastest lap of the weekend with the BSRC Track Drone, he was hauling.
Track Drone– WTH is the BSRC Track Drone? Remember that "remote video controlled" truck I teased about in previous Cub Reports? Well we finally came up with a better name for it- the Track Drone. We took a Traxxas 4×4 Slash, installed a camera in it, then drove the truck remotely via watching the video feed on a monitor in our booth (steering wheel and foot pedals were mounted under the monitor). I am extremely biased, but I'm gonna huck out there that our Track Drone was the hit of the show. The Track Drone we used at iHobby was one of our earliest test units, but…. you wouldn't believe the amount of attention it received. Industry types were studying it, consumers couldn't wait to drive it, it was simply a hit and I'll tell you why- the Track Drone is the next evolution of our hobby. It's exciting to drive an rc car normally, but driving it from an in-car perspective takes the realism to a completely different level. When driving an rc car in the traditional style (via pistol from where you can actually see the car) you say to yourself "Ooopss, I think my car is gonna hit that wall, hope it doesn't break an a-arm.", while driving the Track Drone you see the wall coming up and say "OMG I am going to hit that wall!". Even just putting around becomes exciting again, the in-car perspective changes everything, everything becomes interesting again. With the Track Drove it's interesting just driving through a pile of leaves. Seriously. Anyways…. look for more info on the availability of the BSRC Track Drone in the coming weeks….
3D– While on the subject of BSRC, our 3D rc movie also was a big hit, once again because of it's added realism. It was fun staring at the people watching the movie- watching them actually duck when they saw a Traxxas truck coming right at them, watching them put up an arm because they thought they were going to be splashed with water, etc. Brian did an incredible job on the 3D movie and it showed.
Demo Track– Oh yes we did. We went bigger and harder than ever this year. The crowds were huge, the screams were deafening. Seriously, if you've never seen one of our demo's in person you are missing one of the craziest spectacles in rc.
Click through to keep reading.. Brian gets upset when I take up the whole front page..

Castle– The Olathe crew was right next door to the BSRC booth showing off lots of 5th scale and air product. Castle always makes iHobby to support the sport, nice seeing them again.
Thunder Tiger– TT had a display in the GP booth this year and I don't think it's a stretch to say that teaming up with GP is the best thing they've done in the American market in quite some time.
Pro-Line– Was Pro-Line at the show? Of course they were, Pro-Line cares about the hobby and the consumers that keep it alive. Also of note was their booth, I don't know who sets it up but it looked incredible. It wasn't over the top or crazy, it was just perfect, just like their products.
Rally Legends– Who? You don't know their name yet but you soon will. Seriously epic scale looks on some classic rally cars that is bound to blow up in America.
Sunshine Systems– Who? You've probably never heard of this company either, but they had a breakout show at iHobby 2011. There are lots of companies out there that make light kits for rc cars but these are the easiest I've ever seen to use, and they have very affordable price points. Look for a review of one of the systems this week here on BSRC. Oh and… I hear they are getting hooked up with one of the big two for distribution, so you'll probably be seeing them in an LHS near you soon.
RCCA– Car action had a small booth this year staffed by a very hot booth babe. They didn't seem to be giving any mags away this year. Seriously? That's the only way I can ever find one of their mags. And now I can't even find it once a year at the biggest show in the US?
Driver– The driver crew was in effect covering the show and I even hear Vogel put BSRC stickers on one of his recent project trucks. Even I might have to find an issue of Driver to check that out.
Ok, yes, I know this is getting wayyyyyy too long now…. LOL
BSRC– Ok, ya, I'm certainly biased, but I don't think I'd be stretching it to say BigSquid had a "breakout" show this year. Yes, I might say that every year, but in this years case it was even more so than usual. I say that because I couldn't walk 50 feet without a reader coming up giving me props, it was insane. On the industry side even the companies that hate us want to work with us, that's saying something. They might hate us for doing things differently than the mags but they know we are hot right now and they want to be a part of it. We are the company everyone is studying right now, we are setting the trends, we are leading the pack, I gotta say it's sure nice to see all of our hard work and crazy long hours finally pay off.
Props– Wow there are a lot of props to spread around. First on the industry side…
Mark and the crew over at ECX– they totally hooked up some of the people at our demo's with their totally unavailable to the public Torment truck, plus extra batteries etc. Good group of guys over there that are doing what it takes to put ECX up front.
Howard and Albert over at Speed Passion– mucho love to these guys for giving two of their trucks away to people at our demo's. Their RS2 is the best truck on the market under $100.
The crew at Sunshine Systems- they were spreading the love around deep at our demo's as well, thanks for hooking everyone up.
HPI– I don't know if you've driven one of the new Savage XS-Flux's, but they are hands down the fastest mini I've ever driven. I was pulling standing backflips on 2S with ours (bone stock), and HPI was nice enough to give us one (and a Mini Trophy Truck) to give away at our demo's. Props to the whole crew out west.
Duratrax– their Evader DT is a blast to drive and thanks to the guys over at the big DTX one of the people at our demo's got to take one home with them. Huge props to Jeff, Scott, and the rest of the crew over there.
Next on to the BSRC crew…
Huge props to Bill for…. well… doing 90% of the work around the booth. LOL If it wasn't for Wrench there wouldn't be a booth, heck there wouldn't be a BSRC.
Brian for cutting the big checks (especially mine!) and spending crazy amounts of hours getting everything ready.
Adam "The Intern" Beiber for bringing in some sic looking cars/trucks and doing some serious wheel'n at the demo's.
Evan "No You Can't Use My Bathroom!" for posting up crazy amounts of info and helping with the demo's.
Jeff "Whoaaaa OOOooohhh Ooooohhhhh" for working his butt off keeping the site and cams up, all the pics etc.
Tim "Pro Driver Guy" Mohr for sticking his buggy in the rafters every demo.
Top Jimmy Swift for putting in some sic drives at the demo's and keeping everyone from going crazy during the week.
Craig "The Wall Turn Guy" for building a crazy sic wall turn and helping with the demo's. The demo track had been the same forever, nice to see a crazy new addition to the track.
And the biggest props go out to all the consumers/readers that attended the iHobby show. You all proved that while some of the manufactures might be too lazy/cheap to get a booth at the show, that you will show up to support your hobby regardless. It was very difficult to even walk around the expo hall on both Saturday and Sunday, consumers turned out in droves, there should be no doubt that our hobby is alive, well, and kick'n.
That's finallyyyy it for this week. Support your local hobby shops, tracks and bash spots!
YOUR Cub Reporter