THE Cub Report, 11.03.2013, Version- Bash'n w/ Kitty Pryde & Riff Raff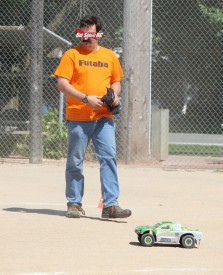 Hello rc fans, it's another week in our funtabulous hobby, and welcome to THE Cub Report.
First a bit of BSRC news…
We've got another big week ahead, but then they all seem to be "big" now days (thanks to all you guys). We'll be posting a review of the 18th scale ECX Ruckus this week, along with the daily news and perhaps a few surprises along the way.
You've probably seen we have a new weekly column on scaling/crawling. The whole scaling/crawling genre has blown up the last couple of years. It has been around forever, only now with companies like Axial, RC4WD, Vaterra, GMade, etc, has helped crawling/scaling to go from a minute amount of hardcore guys hand crafting trucks, to a very accessible, and laid back way to get your off-road rc fix. Heck, I'm one of the many people that have pretty much dismissed the scaling genre, I expected it to have died off by now, but it has gotten so big that it can not be overlooked. Will it be a fad, or is it here long term? At what point will the other "big name" manufactures jump in? Who knows for sure, but now you'll be able to get a weekly does of scaling right here on BigSquidRC.
Geez, I still miss Jeff Hoy's "Around the Web" column. I wonder just what it would take to get him to bust that thing out again. Hummmm… my guess is it would take a 1D X or some L series glass, neither of which I have to give. Oh well, maybe a few bottles of Dom would do the trick…
JConcepts has been doing well the last couple of years. They've been putting out lots of new products, and putting in the time/money/effort by traveling around and really supporting the hobby, props to them for that. However, their new Dominator body for the RC10 Classic looks like there should be a little Pope inside waiving out to the crowds. Ooofahhh, they missed the mark on that one, and managed to create quite the debate around the office on the vintage class.
The RC10 Classic started shipping a couple of weeks ago. My LHS ordered in two of'em, they sold one in a couple of days, but have been sitting on the other. Yes, that's just one hobby shop in one area of the country, a ridiculously small sample size for sure, but in my area a "hot" new release has a list of people waiting for the first ones to hit the shop. Anywhos, maybe in your area vintage will blow up bigger than mine.
Because of the RC10 Classic hitting hobby shops, a local track has been pushing a vintage class. The "vintage" class is open to the RC10 Classic and to other really old school buggies. So….. I have noticed that even though the class is just a couple of weeks old, it has already turned into a technology race. A war to see who can mount up modern tires, modern brushless, modern everything, to then go faster than the "idiots" who might actually show up with real vintage gear.
Now we have people on staff that have argued that going high tech with the vintage buggies is the way to go, it can make them faster and easier to drive. I am not of that mindset, to me, a big part of vintage is going slow. Yup I said it, sometimes it is fun to go slow, and in my mind, it's a neat part of history for noobs to experience what it was like to drive these machines back in the day. I'm talking full on rock hard tires, "speedos" that consist of a servo and a resistor, and good old fashioned non-rebuildable brushed motors. Now that is truly vintage to me. And… when driving such a buggy on track, it not only reminds me of how good modern buggies are, but reminds me once again that the amount of fun we have in rc does not depend on MPH, fun in rc can be had at any speed.
That's it for this week ya freaks, support your local hobby shops and bash spots when ya can.
YOUR Cub Reporter