THE Cub Report, 11.14.2011- Cobra Starship Is Hipster Noise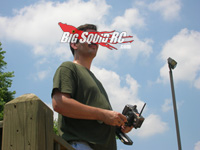 Hola bashers, racers and industry types, yes indeed you have found yet another extra succulent edition of THE Cub Report.
Thankfully Red Bull's Seb Vettel DNF'ed on the first lap of the Abu Dhabi grand prix allowing for a good race. Thankfully Lewis "Moons Over My Hammy" didn't crash into Felipe Massa (again), allowing the Mclaren driver to finally put it on the top of the podium. Oh and dear Mr. Webber, it's ok to win when your teammate DNF's, just say'n… If you don't follow F1 you didn't understand any of that, and that's ok, but you'd be amazed how many rc'ers are F1 tifosi.
I'll assume you do follow rc, and if that's the case I think you'll agree that HobbyKing having ads on the Discovery and Science channels is pretty big news. The "industry" hates HobbyKing, I think HobbyKing is the devil, but you must admire their spunk (and the depths of their wallets). I mean… you can't go anywhere on the web without being visually molested by their ads, and now you can't even escape them by watching an episode of "Myth Busters".
But perhaps the even bigger news was…. the HobbyKing commercial features their uber new "flight drone", a plane you fly while wearing a set of goggles giving your a first person view as if you are in the actual cockpit of the plane. There are Very few people that have gotten to experience the feel of flying an airplane in that manner, and very few have driven rc cars that way, but I can assure you the "future" of rc is this technology. I say this from first hand experience. Driving an rc while viewing a live video feed from the perspective of the drivers seat is infinitely more exciting than sitting your truck down and driving it the ole' school way from a side perspective.
Most of you have already heard about BigSquid RC's "track drone" that we had in our booth at iHobby. Hundreds of hobbyists got to experience this new viewing perspective while driving an rc thanks to us, and after driving it typically their reactions were amazing. Most talked of driving the track drone in the same manner that I did after my first experience with it, "That's Freak'n Awesome!". Driving a "track drone" from an in car perspective is simply more realistic than standing off to the side, and because of its added realism it wasn't unusual to see people "brace for impact" when they were about to crash our track drone. When was the last time you braced yourself for impact while driving an rc car in a "regular" manner?
Thankfully our hobby has trended to scale realism the last few years. The Traxxas Slash lead the charge, and now the norm is looking like the real deal, not looking like some Martian Starship. So now that our trucks/cars/etc look proper, it only makes sense to drive them in a more "realistic" manner, from the view of the drivers seat. Not only is that perspective the proper one, but makes for a more exciting driving experience. It's a win/win situation as far as increased enjoyment goes.
There are downsides of course- added complexity, additional cost, and those pesky FCC regulations to name a few, but none of those have stopped us rc'ers before. 🙂
So what's up at BSRC this week? All sorts of crispy fried, chocolate covered goodness. 🙂 Yes, I swear I'm going to have my Dynamite Passport review done (you won't believe how we durability tested it… LOL), as well as our review on the Horizon/Losi XXX-SCT. Yay. We'll also be posting unboxing pics of Helion's uber new trucks, their 10th scale 4wd SC named the Dominus, and their new 18th scale truggy. Oh and, I hear we've got some news on the latest from Traxxas. 🙂 So keep your eyes peeled on our front page. Remember, the refresh button is your friend. 🙂
That's it (I swear!!) for this week. Support your local hobby shops, tracks and bash spots!
YOUR Cub Reporter