THE Cub Report- 11.21.2011- Revenge Is A Dish Best Served Cold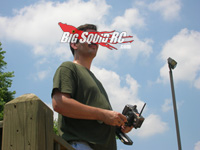 Hallo (read- German for what's up homie?) rc hobbyists and welcome to this weeks ridiculously uber yet inert Cub Report.
What's way-super-dope from last week? As Robin posted over the weekend HobbyKing/Turnigy is the next company throwing their hat into the scale buggy arena with their 2wd desert racing buggy. This is a direct competitor to the Horizon/Losi SCB and the Kyosho Ultima DB. Who would have thought HobbyKing would beat such heavy hitters as AE and Traxxas to an ultra hot product category like 2wd scale buggy? My goodness has the world changed…
Due to certain obligations I've been spending an inordinate amount of time at tracks lately, more than even I like to spend. After having spent wayyyy too much time at local tracks I find it interesting to see the old-school-hard-core-curse-at-marshals-every-club-race-is-the-worlds-racer types running old school machinery like AE B4's and Losi 22's, and then see the new-school-racing-for-fun types running SCT's and SCB's. When I look at the races now days, and when I see B4's and 22's running, those buggies remind me of racing in the 80's and 90's. When I see the SCT's and SCB's running I see the future of our sport/hobby. And it's quite fun talking to the racers of the old school buggies, it's fun listening to them explain how their 22's are some elite uber racing machines while any SCT or SCB is some child's toy. LOL… Nothing quite like having 20 to 50 year old men explain to me specifically how one toy car is an uber racing machine when another is one step away from being a Tyco.
And I totally understand why, the marketing machines have done their jobs properly. If the Losi 22 was being sold under the RedCat banner and being marketed as a bash machine then racers wouldn't touch it with a 10 foot pole. If the latest HobbyKing buggy had Durango stamped on top and was being sold for $400 then racers couldn't rip the cash out from their wallets fast enough. It's all about marketing, always has been, always will be.
Some industry types would argue the ad campaign featuring Jay Halsey, a bikini babe, and the gold tub RC10 was single handedly responsible for putting Associated at the top of the heap, not any of their race wins or their superior product quality. At the time the RC10 was the best buggy on the market and they were winning everything, so that certainly didn't hurt, but still the heavy hitters who make their Porsche payments via rc marketing will argue it was all about that single ad campaign.
A better example may be the Traxxas T-Maxx. I don't think I'd be stretching it much to say that first generation T-Maxx wasn't the best product (read- it was a pile of garbage), yet it single handedly vaulted Traxxas to the top of rc. Traxxas firmly believes in no rc race team, so it's not like they were winning races, and it's not like you could start a first gen T-Maxx in under 50 curse words (and once started it was bound to die the moment the tires hit the ground… come on, you've all been there!). So just what put it up top? Yup, marketing. Traxxas bought up a lot of space in the mags and their ad department was creating the slickest ads in the biz (and for mag ads they still are).
Companies like RedCat and HobbyKing don't have slick magazine ads, in fact their print ads aren't far from pure rubbish. But… the world has changed a lot since an aluminum tub chassis was the hot ticket- the internet now rules the planet. There is a reason companies like RedCat and HobbyKing are selling hand over fist- they understand marketing on the net. Let's take HobbyKing for example, they came up with a rather simple ad campaign- make consumers believe they were saving money because they were buying directly from China, then they bought ads in just the right places on the net to get the word out. Some consumers may argue HobbyKing took off because they had the best battery packs, but that certainly wasn't the case, and others would argue HobbyKing took off simply because they were the "cheapest", and that wasn't the case either. HobbyKing took off because of one simple, yet innovative, advertising campaign that was strategically placed on the internet.
On another note…
We are almost done testing our Helion Dominus 4wd short course truck, expect the review (ummm, yea we were pretty brutal on it) sometime mid week. Our review on the Losi XXX-SCT is done and should also be going up early in the week. Brian (or Brain? which one is it?) is back in the office this week so expect to see several reviews going up ASAP.
Also… one quick shout-out to all our readers, we've had yet another record month. All you guys are blow'n up our servers but Thank You for reading all our drivel.
That's it for this week, support your local hobby shops, tracks and bash spots!
YOUR Cub Reporter