THE Cub Report, 11.24.2014, Version- Ready Or Not, Here It Comes (Christmas)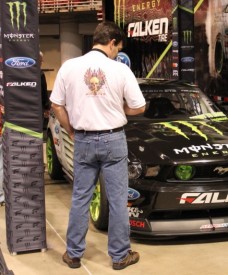 Years ago, and I don't remember how many it has been (and I'm far too lazy to look it up), I wrote a Cub Report featuring what our BigSquidRC Bash Crew wanted for Christmas. I wrote it to give you guys a little more insight to what our Bash Crew was thinking, and to what they really truly wanted under the tree that year. Well, this week is Thanksgiving week, the start of the frenzied X-mas buying season, and time for me to do another Cub Report on what our guys want under their trees. I contacted all the members of the Bash Crew and asked them "If money is no object, what rc car or product do you want for Christmas?", here are their replies…
Hawaiian Chris- Our guy Hawaiian Chris has raced off and on for years, but now days he is busy helping us test products, and he spends his free time bashing 8th and 5th scalers. What did Chris have on his list? First on his list was a Rockdragon crawler from RC4WD, but he also wouldn't mind finding an Axial Yeti and a Futaba 4PX under his tree. I've never known Chris to be a crawler type of guy, so I find it interesting to see the Rockdragon and the Yeti on his list.
Sam "The Noob"- When not busy hitting the school books, Sam is helping out with reviews and photography around our lavish BigSquidRC offices. Btw, Sam is a teenage girl, maybe that is part of the reason she put a Miku Edition Kyosho Sandmaster on her list for X-mas 2014.
Craig "The Uber Ramp Builder Guy"- So ya, Craig is the guy that builds all the ramps for our demos and is generally about as hardcore of a bash-freak as you'll ever find. Typically on his list you'll find 5th scale brushless items, but this year all he wants is an rc version of the Ripsaw. What is a Ripsaw you might ask? For those of you too lazy to Google it, it's basically a crazy fast tank that handles like a TORC truck. And no, there isn't one available for sale on the rc market, but we can keep on hoping.
Tim "Factory Guy" Mohr- You may have noticed Tim does all our press release posts, plus he puts in some serious hours on the testing and photography end of things here at BigSquidRC. Tim said he already got what he wanted for Christmas, a new Pro-Line PRO-MT monster truck, but if he had to came up with something else he would go for an ARRMA Kraton.
Iron Mikeee- Iron Mike is about as hardcore of a basher as you'll ever find. He bashes 6 days a week, but it would be 7 if he didn't save one day for wrenching. What is it that Mikeee wants the most this X-Mas season? That would be a Halix from Vaterra. Mikeee is a HUGE fan of monster trucks, and he drives mine like every day, so I can see why he would want one so bad.
Adam The Intern- I don't have to explain to you guys who Adam is, he's the always happy, always peppy, and always hardcore intern of ours. Adam is big into normal bashing gear, but he has also been hardcore into the scaler world for a couple of years now. The only thing Adam had on his list was a Trail Finder 2 Kit from RC4WD.
Brian- Like a few of us here, already has his hands on a Pro-Line Pro MT, so when he had to pick something else for the list, he went with the Vaterra Halix. Brian has been pretty jealous of me every time I'm out bashing the Halix, so I knew this was probably going to make his list.
Wrench- AKA Bill, the fix it guy. He surprised me a little bit this year. This guy has been a large scale and monster truck guy for years and years. Probably since the first one of these, he's had a MT on his list. Since he already has a Pro-Line Pro MT, this year his answer, XXX SCB! Apparently the short course buggy has the ability to scratch an itch he has.
Tobasco Sauce- You probably know Tobasco Sauce as Kevin, our "air guy" that does the weekly "Raging Rotors" column. I didn't hear if Tobasco wanted an air product for X-mas, but he did say he wanted an ARRMA Typhon buggy under his X-mas tree.
Doug – You know him from the weekly scale reports here on Fridays. This year he's hoping for a Kyosho Blizard that he could convert into a monster tank truck. There is something cool about seeing the tracks roll around with a MT on top.
3DBill- sounds like he's looking forward to a Blade 350 QX3 with all the new bells and whistles, as well as a XXX-SCT with AVC to get his surface fix in.
Yours Truly- If you are reading this and don't know who I am, go back and read my 5 years + of Cub Reports. You'll either be appalled or intrigued, but either way you'll most likely tune in every Monday to see what I have to say next. Anywhos, like Tim above the only thing I really wanted was a Pro-Line PRO-MT and I am a lucky man to have one sitting right here on my desk. That fact makes me have come up with an alternative pick, so here it is- a set of the way-super-doper Zeiss Cinemizer 3D Virtual Reality Glasses. I am big into the FPV scene, so these will come in mighty handy for FPV driving, as well as watching video from my laptop (among other sources).
Ya know, it doesn't really matter what we want, so feel free to post here, or pretty much any old where, what rc product you have your eye set on for this X-mas season.
That's it for this week ya freaks. Happy Thanksgiving, go eat wayyyy too much, then get out for some trigger time at your local bash spot, and some face time at your local hobby shop if ya can.
YOUR Cub Reporter