THE Cub Report, 11.25.2013, Version- Are You Listening Now?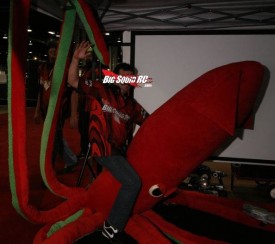 Hola amigos, welcome to a holiday week, and welcome to THE Cub Report, the weekly rc column that is cool to hate. Let me be one of the very first to wish you and yours a Happy Thanksgiving.
With Thanksgiving right around the corner comes the "official" start of the holiday shopping season. Rc hobbyists tend to buy year around, but every year I ask all our staffers what rc items they want for Christmas when money is no object. Now, my annual Cub Report on what the staffers want is not your typical "Holiday Buyers Guide" that is nothing more than yet another paid advertisement, it is legitimately what each staffer wants. Nobody has paid to have their products listed here, it's an honest to God list of what our Bash Crew want for X-mas.
Hawaiian Chris– Chris is a well known racer/basher from the STL metro that helps the BSRC Bash Crew from time to time. He's a bit unique in the aspect that he's an all around rc guy, he races, he bashes, he runs high speed, he is into 5th scale, he is into small scales, and he's even into oval. Chris's wish list included the new 5th scale Losi Desert Buggy XL, the fancy dancy Graupner touch screen 2.4GHz transmitter, and the tiny Estes Proto X quad that we reviewed last week.
Scaler Doug– Doug is the writer of our new scaler column that hits the front page every Friday. He used to do a bit of racing, but now days he is hardcore into the rock crawling/scaler scene. While most of our staffers gave me long, drawn out replies, Doug was quite laconic, he simply wants a Tamiya Bruiser.
3D Bill– You don't hear much about 3D Bill on our front page, but he is our "go to" guy for everything involving the air side of the hobby. As of late he's gotten into multi-rotor flying machines, from tri-rotors to hex-rotors. He's a good flyer and a good driver too. When he's not flying he likes to bash 5th and 8th scalers. For a stocking stuffer Bill wants a LaTrax Alias. He says the Alias would be a good little flying machine for those days when it's too nasty to be outdoors. The big item on his list is some sort of large hexacopter with a brushless camera gimbal. 3D Bill is big on flying, but he has even more fun when filming it.
HobbyTown Kevin– You might remember Kevin from our old Google+ Live Shows, but as of late he's been busying working his tail off at one of the HobbyTowns in the Chi-Town metro. Topping his rather extensive list was an HPI Baja 5B SS kit and a Blade 550X Combo kit. He also had an HPI Savage Octane on his list, but I don't think even Santa has the magical powers to make that thing appear.
Iron Mike– Mikeee is our goto surface bash guy in the STL metro. He is known for his wrenching, which might be because he can break an anvil with a pillow, it's just his God given talent I guess. Anyways, Mikeee wants Santa to fill the area under his tree with a 1/6th scale Hetzer tank and a big ole' "deep v" boat. Sounds like Mikeee wants to expand his rc horizons in 2014.
Craig "The Uber Ramp Guy"– Craig is the guy that builds all the ramps for us, which isn't easy for multiple reasons. He is also gnar-core basher, in the true BSRC Bash Crew spirit he always overpowers and never says no when it comes time to huck a big gap. What Craig wants is an 8th scale version of the Howe & Howe Ripsaw Tank, powered by a Castle Monster system of course. If Santa's elves have time, he would like it with a waterproof FPV setup (with head tracker). Actually we have several members of our staff that want a truly hardcore bash machine with tracks- one that can go 30 mph and that you can jump. There are tons of rc vehicles with tracks on the market (tanks), but none of them can do what we want them to (at a reasonable price).
Tim "Pro Racer Guy" Mohr– Some of you might know Tim from doing all the press releases on our front page, while others might know him from his 18th scale factory racer days for Castle Creations. On Tim's wishlist was just one item, true to form it was a race machine, the Schumacher Cougar KF. Tim wants it because he has raced 2wd buggy for decades and the KF represents the current state-of-the-art for the class.
Brian– Hummm.. just who is this Brian fellow? Oh ya, he's the guy cutting the checks around this place. Not only is he a good check cutter, but he's pretty hardcore when it comes to bashing. If there is one thing Brian loves it's to bust a car in half. What's on Brian's list? Well he said the Estes Proto X was on his list, but he just got a case of them in the mail, so you can scratch that one off. He really wants something like an HPI Savage Octane, but seeing as how those are more elusive than the Loch Ness Monster, he has his eyes set on the Losi Desert Buggy XL and surprise, surprise, a Kyosho Lambo Murc Mini-Z. Those two are about as far apart as you can get in the rc world, but it goes to show that Brian will bash anything, regardless of size.
Myself– If you don't know who the heck I am, I suggest making one of the big trade shows and getting to know me in person. Or, just keep reading THE Cub Report because you will learn more than you ever wanted to just by doing so. Anyways, I am posting my wishlist last, because well, I am just that narcissistic. Anyways 2, I only have one thing on my list, the new Vaterra Halix 4wd monster truck. I like the fact they are pushing new technology on it, I like that is has modern looks, and from having tested a bunch of other vehicles in the Vaterra line-up, every one has been able to take some serious bashing before breaking. For 2014 I am looking to build a hardcore uber bash machine for demos and such, and I think the Halix would make one heck of a good starting point. I would have also put the Pro-Line PRO2 sct truck on my list, but I already have one. 🙂
That's it for this week ya freaks, support your local hobby shops and bash spots when ya can.
YOUR Cub Reporter