THE Cub Report, 11.26.2012, Version- Carpet Lay'n Truth-Bombs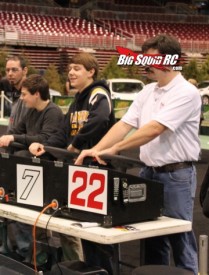 Hello everyone, I trust you all had a great Thanksgiving and are ready for another big week in the rc world. Also, I hope you got a chance to catch the final F1 race of the season from Brazil, it was an epic display of why F1 is so much better than NASCRAP. Congrats gotta go out to the Red Bull team for once again pwn'in the world, to Alonzo for being such a gracious loser, and to the Iceman for having the balls to cruise the outer reaches of the Interlagos circuit looking for the nearest pub (during the actual race!).
Ya, so the BigSquidRC crew has big news for ya. We've got something all new, different, and way-uber-dope coming your way this Wednesday evening at 9 pm CST. We'll be posting complete info the day of, but till then I'll just tease that we'll be entertaining you in an all new way and we'll be giving away a brand new Durango at the end (around 9:30'ish CST). So make some time for us that evening, you'll be glad ya did. Yes, seriously.
Also for your calender, don't forget to keep an eye out for our Tuesday Review, our Wednesday Interview, and ASK Cubby on Thursday, as well as additional reviews and various rc news throughout the week. If you are look'n to keep dialed on the rc scene, BigSquidRC is the place to bookmark on both your laptop and your mobile device.
On a different note…
A buddy of mine from England posted on Facebook how he thought that his country should have more indoor clay tracks instead of running on carpet. My homie had just made a tour of the grand ole' U S of A and had visited some of our indoor facilities and I guess he was bitten by the high bite dirt indoor scene. However… from having spent far too many hours on both I don't think he has any idea how superior indoor carpet tracks (yes, off-road) are to dirt.
Changing the layout of an indoor dirt track is a huge PITA, not only from the standpoint of having to drive a BobCat around indoors (and rollers, and watering, and all the other tools required), but also from all the dust created and the massive amount of time involved. Changing an off road carpet track is literally as easy as grabbing one of the local hangout guys and asking for some help moving the pipes and re-positioning the ramps.
And… the reason we mainly have indoor dirt tracks here in America is "certain" racers don't think it's off-road unless the track is made out of dirt. These are the types of schmoes that haven't actually raced a full scale "off-road" event in their life, thus having no idea what real off-road is about. High bite indoor dirt tracks are really nothing different than carpet tracks except they are a hell of a lot more work and cover everything around them with a fine layer of dust. Clay tracks give lots of traction, so does carpet. Clay tracks require little to no treads on the tires, as does carpet. Clay tracks are glass smooth, just like carpet. However, a "true" off-road track is quite the opposite. True off-road tracks are rough and bumpy as hell, and even more so on the next lap. True off road tracks require big knobs to dig into the loam or the mud. True off-road tracks are more about balls and throttle control than chassis set-up.
So to my little friend from the UK, if you are going to race on glass smooth high bite surfaces please just stick to your tried and true carpet my friend, they are a whole lot better overall than all the indoor clay tracks we have kick'n here in the states. Too bad so many American's have such large ego's that they can't see past all that dust and install carpet, or better yet, to go True freak'n off road with loamy dirt and no track maintenance during the race weekend, thus allowing the track form naturally like a "true" off road track does.
Rant over.
One last note for this week guys… you may have never heard of Google Plus before, but it is a type of competitor to Facebook. This week we are starting to update our G+ page on a regular basis, so if you have a G+ account put us in your circle of friends and look for some exclusive content over there that we won't be posting on our FB feed or on our dot com.
That's it for this week folks, thanks for reading and as always, support your local hobby shops, tracks and bash spots!
YOUR Cub Reporter