THE Cub Report- 11.28.2010, Version "Where Have All My Tax Dollars Gone?"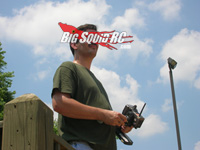 So….. the banter around the office this weekend revolved around whether or not tax dollars should be used to support our beloved rc hobby. Just how did this convo even come up? Well, editor Brian told us about a new track get'n ready to open up down south. This particular track was given its building by the city, and on top of that, it was given money by the city to fix up that building.
Of course YOUR Cub Reporter is as "pro-rc" as the next guy, but I do not feel tax dollars should be used, at least that extensively, to help an rc track. IMO, there are too many hungry kids out there to feed, too many sh!tty roads to fix, and too many underpaid teachers that could use that money first. Editor Brian rebutted my argument stating that if the tax dollars were not used on rc, they'd just be wasted on something else, so they might as well go to something WE can use. Yes, sure, I appreciate a good rc track as much as the next guy, but we are in a HOBBY, one that should make it's own way, not rely on tax dollars. Supporting your local track is a good thing, but should I have to pay my entry fees plus my tax dollars to do so?
All across America there are rc tracks in city parks. These are tracks where rc clubs have convinced their local governments to let them use a corner of a city park for a track, and I'm fine with that. The club gets a place to promote the hobby and the city gets some added activity in one of their parks. It's a win-win situation for both. But, in nearly all cases, the rc club has to pay for electricity, water, drivers stand, and timing system. If the club has their act together they have no problem paying for those, if they don't, they are forced out business, just like it should be.
On a much different subject… Yes, we've taken forever to get our 4S Lipo shootout done. But guess what? It's done! In it you'll get to see CheckPoint vs Thunder Power vs Turnigy vs Venom vs Ace, going head to head on track, on the radar gun, and on the West Mountain CBA discharger at a 30 amp continuous discharge. This is not one to miss so look for it on the main page here on BigSquid any minute now.
I would also like to ask hobby shops around the globe for their achtung. BigSquid would like to do a weekly feature on your, yes Your, hobby shop. If you'd like to be featured, submit some photos and some info on what makes your hobby shop special to Cubby at BigSquidRC dot com. This is not just limited to the USA, we want shops from all countries!
Lastly, the "biggest" product news of the week came when HPI announced their new Baja 5SC truck. This is a 5th scale gas truck that seems to be everything their 5T should have been in the first place. The 5SC has an uber short course body along with numerous refinements that fix many of the small problems on their 5 series. Not that the HPI 5th scalers suck, they don't, they are the best thing to ever happen to 5th scale, but it looks like the 5SC will put an exclamation point to just who owns the best in class. If you haven't driven one of these beasts try to giving one a wheel, they are more fun than free samples day at the cat house.
That's it for this week, support your local hobby shops, tracks and bash spots!
YOUR Cub Reporter