THE Cub Report, 11.7.2011- Version: The Cretins Are Cloning And Feeding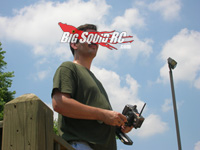 6 days, 4 hours and 12 minutes till Abu Dhabi, just say'n…
Oh and welcome to yet another merciless butchering of the English language, aka THE Cub Report.
In Traxxas news, some redneck roundy round driver named Kyle Busch got Traxxas lots of tv time over the weekend when he decided to hack a fellow pick-up truck driver into the pipes Friday during a race in Texas. Sportscenter, all weekend, replayed Kyles hack while driving a truck plastered with a huge Traxxas logo. Luckily for Traxxas there is no such thing as bad publicity. Maybe the guy just got bored of turning left and decided to go all Bates on the truck nearest him, who knows…
In other Traxxas news, they didn't unveil their new uber machine at SEMA last week. We do not believe they were planning on showing it there, there was never an announcement that they would, but I think a lot of people have been holding their breath and hoping. Maybe it was actually there and we couldn't see it because it is the worlds first invisible car?
But… Axial, the little company that could, did show up big at SEMA with their new revolutionary EXO scale buggy. It's 4wd, it features very attractive scale looks, it's electric, it is Not a crawler, and it's said to have a beefy enough drive-train to handle serious 550 power. Finally an Axial that I must have for my rc garage.
Axial has been a darling of salesroom floors for a couple years now, the EXO can do nothing but increase their presence. The market has been trending away from "race" bred and "ufo" looking vehicles for years now, the new EXO looks to be spot on. The Axial EXO certainly doesn't look to be a race specific model, and it looks very scale, precisely what consumers are looking for right now. Its price point of around $350 is also right in the ballpark.
Then on Thursday HPI showed up with their new Apache 4wd electric scale buggy. From a glance the Axial and HPI look quite similar, but it sounds like the Axial is set up more for a 2S 550 power system, while the Apache uses more of an 8th scale 4S set-up and a somewhat higher price point. Around the office some of our guys liked the Axial more, while others had more love for the HPI, pretty much the sentiments of what was being said on most message boards. Certainly one is better than the other and I can't wait to shoot these two out and watch the cream rise to the top.
If you are ole' school like me you keep wondering when Associated is going to jump into the "scale buggy" class, because you just know they'd have something especially trick for a platform like that. If you are new school you probably say "Who's Associated?". Just say'n…
X-Ray made it back on our radar this week when they let go of one of their drivers and some things got aired out over the web. Ya know it always looks bad for both parties involved when something like that goes down, but at the very least X-Ray got some attention out of it, albeit negative. It still amazes me how a company with such a great product just didn't take off in our country. Maybe it was their poor distribution chain, maybe it was a lack of parts, maybe it was their limited product line-up, whatever it was, X-Ray was the little company that could have but didn't.
We have another big week of reviews coming your way this week. Look for Brian's way-super-dope review of the ARRMA Raider buggy this week, my review on the Dynamite Passport Ultra charger, and hopefully Jeff's RedCat truck review (which should be especially interesting as I hear that thing is already a pile of rubble). Also… we've got some sweet contests coming up soon, so keep your eyes peeled on our front page.
That's it for this week, support your local hobby shops, bash spots, and tracks! See ya Thursday for ASK Cubby.
YOUR Cub Reporter