THE Cub Report, 12.03.2012, Version- No Way I'm Making The Good List This Year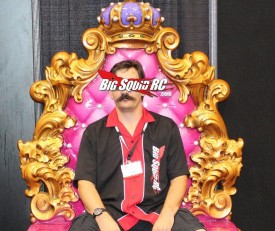 Hello everyone, it's yet another Monday and time for another Cub Report, the finest example of sarcasm (and bull) that you'll find in the rc world. I hope THE Cub Report gets you all off to a great start to the week.
First up, best of luck to all the American racers down in Argentina right now going for the IFMAR 8th scale buggy championship. Yes, that race lasts about 9 days too long, but best of luck guys and bring that trophy back home with ya to the states.
Next up- I hope you caught our BigSquidRC Live show last Wednesday night on Google Plus and YouTube. We'll be doing another show this Wednesday night, this time an hour earlier at 9 pm CST, so I am cordially inviting you to join us. This week we'll announce another recipient of our "Basher Approved" award, and yes, we'll be giving away another brand spank'n new truck! We hope to see you there, and while you are at it check out BigSquidRC HERE on Google +. Oh and- get your own G+ page rock'n! The real goal of our live show via the Google + "hangout" is to have live interaction with our readers, meaning at some point (in the not too distant future) you guys (yes, YOU) will be invited into the hangout with us to bench race, ask questions, or to just talk rc smack.
Now to get to what this Cub Report is all about- each year I go around the office and ask our Bash Crew, cost being no object, what rc product they'd like their loved ones to get them Christmas, and why. Yes, we've certainly got quite a diverse crew around here, sometimes they want very different things, other times they are amazingly the same. Let's take a look and see what the BigSquidRC bash crew members would wish for in their stockings this year…
Iron Mike- Seeing as how Mike always Bogarts our Pro-Line tuned Traxxas Slash everywhere we go, his answer was no surprise to me. If cost were no object Mike would pick a Slash fully decked out with Pro-Line hop-ups. A Pro-line Pro-2 Slash is not only an animal on track, but one seriously tough truck, so nice pick ya made there Mike. Maybe before next Christmas Pro-Line will release an entire truck? Hummm….
Hawaiian Chris- Chris had a fast response for me, if he could get any rc product for X-mas it would have to be a Losi 5T 4wd gas truck. No doubt the 5T is a beast and fun to drive, but Chris put it on his list because its price point is so high that it is something he would never buy for himself.
Craig The Uber Ramp Guy- The Losi 5T also made Craig's list, but he wants his converted to insane brushless power. Also on Craig's list is a full head tracking FPV system. The Losi 5T is quite insane on gas power, and about that times 2 on brushless, so I can see why it would make his list. Craig didn't say which of his vehicles he would install the head tracking FPV system in, but hopefully not the big BL Losi, at least not if I am standing anywhere near. 🙂
Jammin Jim Swift- There is no Losi on Jim's list as he told me his Christmas present of choice would be a LCG Traxxas 4×4 Slash. Jim wants one because the LCG chassis would help make it more competitive on track, it should be super durable, and when you do need a part they should be easily found at nearly any local hobby shop.
Tim Mohr The Pro Driver Guy- No Losi or Traxxas was on Tim's list, he told me a new Durango DEX408 8th scale electric was what he was looking for. Tim's the kinda guy that is totally into hitting the track every day and quad'ing every double on the track, and no doubt the Durango would bust out lap after lap with him being pinned WFO everywhere.
Adam The Intern- Adam is sort of our resident scale/crawler type guy so his answer was no surprise to me, it was an Axial XR10 crawler. Adam says he doesn't have an MOA so an XR10 would be neat for him to find out just what it could do that his other Axial trucks could not.
Brian The Editor- Brian has a couple of things on his list. The Losi 5T also made Brian's list because it is such a big beast of a bash machine, but he also listed a GPS enabled quadcopter. If you've never flown a GPS quad, it's almost like cheating because they can be extremely easy to fly. Brian has been flying a bunch of different quad's lately, so he's certainly been bitten by that bug, but will quads be able to keep him interested or will they just be a short term thing for him?
Myself- Now to finally get to the really important person around here, me. I've got too many cars/trucks already, so I'd be wishing for more FPV equipment. FPV has been able to make the hobby interesting for me again and it's a whole new world when it comes to equipment. You can go with a monitor or you can go with glasses. You can go with one camera, or a dozen. The cameras can move with the steering or be fixed. There are tons of different transmitters and receivers to boot. I've got a small selection of FPV gear already, but if money were no object I'd sure like to try some of everything to find out the best possible combo for my personal FPV driving requirements.
So there you have it folks, that's what the crew here at BigSquidRC would wish for if money were no object this Christmas. Feel free to shoot us an email telling us what you are wishing for to Cubby at BigSquidRC dot com.
That's it for this week folks, be sure to tune into BigSquidRC Live this Wednesday night at 9 pm CST, and to support your local hobby shops, tracks and bash spots!
YOUR Cub Reporter