THE Cub Report- 12.05.2011- Version: X-Mas Wishes, May They Come True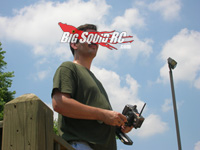 Nǐ hǎo rc fans, welcome to yet another funtabulous edition of THE Cub Report.
Before we get started on our annual "what the staff wants for Christmas" edition of THE Cub Report, we need to give you guys a H U G E thank you! Last week was once again a record breaker for traffic on our site. Thank you for taking the time out of your day to spend a few minutes of it perusing our site. We are just a bash of Joe Blows tearing our cars and trucks up, thanks for your support. (And it certainly didn't hurt when the Traxxas XO-1 was revealed and the Traxxas site was going up and down forcing a lot of folks over to BigSquid. And… apparently the mags were sleeping and didn't post anything till the next morning. LOL)
So… each year before Christmas I pose this question to our staffers- "Regardless of cost, what rc car (or item) would you like to find under your tree on Christmas morning?". Staffers do not talk to each other about their answers, ensuring nobody sways another persons opinion. I didn't make it clear if it had to be a currently available product or not, so some staffers may not have included cars that have been introduced but won't be available by X-mas.
No doubt there have been a plethora of incredible rc products put out this year creating lots of good stuff to pick from, but here's the list of what our staffers would like (and why)…
Adam "The Intern"– Traxxas Summit. I'd like to find a Traxxas Summit under my Christmas tree because its really a cross between my two favorite rc activities: crawling and bashing. The Summit would fit me perfectly and would be the truck that I would drive the most and would rarely sit on the shelf! All I want for Christmas is a Traxxas Summit. (Cubby's note: If I was a young man like you I'd think I'd rather find a Traxxas Summit and Mila Kunis under the X-mas tree, just say'n… LOL)
Robin "The Euro Connection"– Losi 5ive-T. I badly want a Losi 5ive-T. I hate gas powered stuff, but that big flat chassis would make one heck of a good brushless conversion! I look forward to seeing RC-Monster develop yet another brilliant conversion kit for it!
Bill "The Wrench Spinner"– Losi 5ive-T. Because I'm a fuel-burning-gear-head that loves to make noise when I bash!!
Jeff "The Uber Web Slinger"– I was going to say the Clod Buster again this year. But you know what, I really want the Losi 5IVE-T. (even though I hate the name… I also hate the 8IGHT name and why they didn't call it the 10EN-T or 10EN-SCTE? Because it's stupid, that's why. Terrible naming convention). I want it because it's a big, badazz looking truck that looks so much cooler than the HPI Baja 5SC.
Brian "The Editor Type Guy"– I was going to go with the HPI Apache SC, but the rules state it has to be out by X-mas (Cubby's note: or not.. LOL). And since there isn't an official date, and we aren't sure it's going to make X-mas, I'm going with the Savage Flux XS. Sadly, I have now read everyone's x-mas list, and it looks like I just asked Santa for a Speed Bump!
Evan "Thick Battery Packs Are Fast"– HPI Vorza Flux. XO-what? Give me 70+ MPH on OR off-road and the ability to jump a house and live to tell the tale. Bash heavy!
"Hawaiian" Chris– I want a 100 mph Traxxas XO-1 with some good batteries and a MaxAmps 24 volt power supply. You just know the XO-1 is going to be wicked.
Tim "The Factory Shoe"– HPI Apache C1 Flux. It's basically an 8th scale electric buggy in a realistic looking format. I like the looks and it should be fast on the track.
Jim "Races" Swift– Traxxas Slash 4×4. The Slash 4×4 is a hell of a bash machine with unparalleled parts availability.
"Chunky" Jason– Traxxas XO-1. If I am wishing, I might as well wish BIG!
Craig "The Crazy Ramp Builder Guy"– HPI 5SC (with Mamba Conversion). Throw in four Thunder Power 4S 7700 mah packs and I can bash all day without stopping.
Myself/Cubby– Axial EXO. Scale buggies are the new "cool" class, and IMO the EXO is the best looking of the bunch. Not only does it look scale, but it looks durable, and looks like it can take one heck of a beating. Plus, it doesn't require a full scoot 4S 8th scale power system, that's a big plus in my book. I'd much rather run a more normal 2S 10th scale power system. Lastly, the EXO just looks ridiculously sweet in the whoops. I MUST HAVE. Oh and a couple bottles of Dom, but that's a given.
Now that you've read what our crew wanted, lets boil it down. Out of the twelve BSRC contributors 4 wanted a Traxxas, 4 wanted an HPI, 3 went for a Horizon/Losi, and I voted for the Axial. The Losi 5ive-T got the most votes with 3 and the Traxxas XO-1 came in second with 2 votes. Trucks with one vote were the Traxxas Summit, the Traxxas Slash 4×4, the Axial EXO, the HPI Savage XS, the HPI Vorza Flux, the HPI 5SC, and the HPI Apache C1.
I was quite surprised to see the Losi 5ive-T top our list, mainly because most of our guys are not into nitro/gas, but it goes to show that Losi has a potential sales floor hit on their hands. I was also surprised to not see more people vote for the XO-1, but I think part of our guys didn't think we could vote for cars not currently available. I wasn't surprised to not see any Associated products on our list, the only "big" release they've had in quite some time has been the SC10 4×4 and bashers won't touch it with a ten foot pole (because it uses a belt). Brian's vote for the Savage XS didn't surprise me at all, that little truck is ridiculously fast, not to mention fun, who doesn't like standing backflips on 2S? Btw, the only Savage XS we had in the office Brian gave away at iHobby, what does that tell ya? Seriously, a guy that gives away the truck he wants most for Christmas to an anonymous person in the crowd can't be all bad!
We did our list just for fun, just so we could see what others in the office want for Christmas and for you guys to see what type of vehicles the wacky BSRC crew is lusting after. May Santa hook you up on your own personal lists, and may Brian divvy up test product in a fair manner. (Good luck to the guys fighting over the Losi 5ive and the Traxxas XO-1 though! LOL)
That's it for this week. Thank you guys V E R Y much for reading BigSquid, and support your local hobby shops, tracks and bash spots when ya can!
YOUR Cub Reporter