THE Cub Report, 12.10.2012, Version: It's Obviously Broken, Why Not Fix It?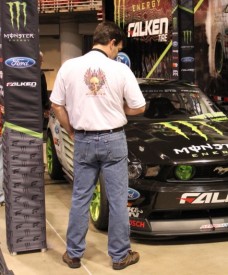 Good morning everyone, happy Monday to you all, and here's to hoping you have a great week that just freak'n blows by.
First up, some BigSquidRC news.
Yes, we'll be doing another BigSquidRC Live show again this Wednesday. If you caught it last week you saw exactly what can happen during a live net show. Jeff's computer decided to chunk a tire while Tim's microphone sounded worse than a sand filled spur gear, so both of them DNF'ed the broadcast. This dropped the entire show in Brian, Adam, and Craig's lap, and well, it just went downhill from there. On the upside, it should have made for some good viewing watching Brian wiggle around with nothing to say. 🙂 Anywhos, the live show will again be starting at 9 pm CST this Wednesday, and this weeks show will be focused on your comments. You can comment on the YouTube feed or in the post on BigSquidRC, and yes, we'll be giving away ANOTHER truck live on the air! Be there or be square.
Hey, if you get a chance, check out the BigSquidRC Google + page. Yes it's rad, and there is stuff on there you won't see here on our dot com or on our FB page.
FYI, we are 21 days away from announcing our "Bash Vehicle of the Year", perhaps the only media driven award that consumers actually trust. Who will win? Stayed tuned to find out…
We've got some cool reviews coming your way this week- the Durango DESC410R V2 4wd short course truck, the Thunder Tiger TS4E touring car, and the Traxxas QR-1 quadcopter. We've been driving and bashing the heck out of the Durango and the Thunder Tiger for weeks now, I hope you enjoy reading the reviews, goodness knows we have enough time put into them. 3 of our staffers ended up getting the new Traxxas quad- one wouldn't bind out of the box and the other two wouldn't fly properly without some serious tuning. Should be interesting to see how that review comes out, LOL. Oh ya, expect the majority of our reviews to come with short videos to accompany them from here on out. 🙂
One vehicle you won't see reviewed this week is the HPI Ken Block Rally Car. As I've previously mentioned ours died about a minute into testing, its pinion gear exploded and the output shaft on the motor broke off and we've just got our replacement parts to fix it. This makes the second HPI vehicle we've attempted to review this year that broke early and ended up sitting around while waiting for parts. I hope you guys are having better luck getting HPI parts than we are. We should have it back up and running this week so we can get the review finished off.
On a different note…
Ya, ya, I know most of you guys don't follow rc racing very closely. In this Traxxas RTR world racing has become less and less important to normal hobbyists. I believe part of that is because most users are more concerned about what the latest hop-up is for their bashing rig, and the other is they've experienced some of the racing scene and know first hand how broken it is. Well here's a little story for ya from the IFMAR 8th scale buggy world championship held last week…
Most of the factory guys arrived in Argentina about a week and a half ago. Since then they went through practice, then qualified for nearly a week. The "TQ" for the event was a racer named Elliot Boots from the UK. You may not recognize the name, but he was clearly hauling ass all week and looked to be the class of the field. You will recognize the name of Jared Tebo, after qualifying for a week he ended up sitting in 4th spot. However, neither of these two men, arguably the two fastest men at the IFMAR world championship, would make it into the "A" final to even fight for the chance of being world champion.
How can it be that the Top Qualifier for the IFMAR world championship wasn't even on the grid of the "A" main? Because… IFMAR screws around and qualifies for a week, then they run a set of qualifying mains. To make the "A", you have to finish 5th or better in one of the two "semi final" mains, plus they add the two fastest times that didn't finish top 5. For Boots, his steering servo gave out a few minutes into his semi, meaning that even though he was TQ of the event he wouldn't be on the grid for the "A". Tebo also ran into some mechanical issues and ended up missing the "A", even though he had spent a week qualifying 4th.
As preposterous as that sounds, that's the way IFMAR works. It sucks for the men that earned their spot in the "A", it sucks for the companies that spent thousands upon thousands of dollars to put them there, its sucks that perhaps once again the fastest man on the planet in 8th scale buggy was not crowned world champion, and even worse, it's yet another black eye for rc racing. Not only a black eye to the non-rc masses, but also a black eye to all the average Joe Blow rc'ers that are attempting to base buying decisions on the race results.
IFMAR spent wayyyyyyy too long qualifying, and once qualifying was over, it was all for naught. What in the hell are they thinking? Why do any of the manufactures even support these idiots? There is a better way, and it does not involve any of the people currently running the show right now. The purpose of racing is to fairly determine the fastest driver/car, the current IFMAR set-up does not do that. Maybe two years from now when the worlds are held again they should just sit around and flip coins because that is essentially what they are doing right now.
But come to think of it… IFMAR would even screw up flipping coins. They'd flip coins for weeks in some country where nobody wants to go (and hardly anyone owns a hobby grade rc), then they'd throw out all the results and play rock-paper-scissors with backwards rules FTW. "Sigh"……….
That's it for this weeks Cub Report, support your local hobby shops and bash spots!
YOUR Cub Reporter