THE Cub Report, 12.17.2012, Version- Dereliction Of Dialect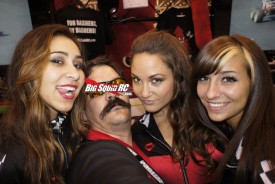 Happy Monday rc'ers of the world, the Holiday Season is nearly here, a time for giving, a time for fine food, a time for family, and even more importantly, a time for a few days off with the chance of pulling some trigger.
First up- yes, we'll be putting on another BigSquidRC Live show this Wednesday night at 9pm CST. This week we have a hook- one lucky viewer will be joining us LIVE in our Google + Hangout. What does that mean? It means that You, yes YOU, have a chance of not only joining us live on our broadcast, but to receive a pretty nice "surprise" for being there. For you to be eligible you have to already have a Google + account and have a working web-cam and microphone. On Wednesday night you will need to put up a comment in our Hangout thread on the front page of BigSquidRC, then we will be select one of the eligible people to join us live via their webcam in our Google + Hangout. If you get selected you will be hanging out with us to bench race, comment on what's going on, and to get your "surprise" (it's a good thing I promise). It should be a wild ride, one that should make for some interesting viewing to everyone watching.
Next up- we will be announcing the official BigSquidRC "Bash Vehicle of the Year" on December 31st at noon CST. All year long we talk about each vehicle as we review it sizing up if it has what it takes to be declared the big kahuna. Each staffer sort of lobby's for their favorite, listing all the "pros and cons", then we finally come to an agreement on a single winner (read- a whole lot or arguing between us). The primary two criteria are- the vehicle has to be extremely tough and it has to represent a great value. Last year the Thunder Tiger MT4 G3 was named "2011 Bash Vehicle of the Year", but even we don't know who is going to win this year. I can assure you guys there will be hours upon hours of "friendly debate" about this in our office right up till noon on December 31st.
Also big news- an extra special thanks to YOU. You helped us crush all previous traffic records for BigSquidRC last week. We've had plenty of "big" weeks before, and maybe even we thought we didn't have much more traffic to gain, but you guys showed us wrong. Thank you so very much for supporting our website. The epic numbers do nothing but deepen our desire to work harder and make BigSquidRC even better.
In product news… the re-announcement of the HPI gasoline powered vehicles were easily the news of the week. HPI first announced the radical departure from nitro to gas nearly a year ago at the Toy Fair in Germany, calling their new engines "Xtreme" at the time, but now they've renamed them "Octane". No doubt the word "extreme" was thoroughly worn out in the early 90's, Octane has a much better ring to it. Anywhos… I've railed on HPI several times this year calling them out on blowing way past their rumored release date, and well, they once again teased they are on the way.
The rc hobby goes in cycles, for several years nitro will dominate, then electric has its turn at the top. If the HPI gas engines really do what they claim they will, we'll be looking straight at a period of "fuel" dominance once again. Electric power has been quite prominent since roughly 2006. Shops that once made a living selling nitro fuel, glow plugs and clutch-bell bearings now make a living selling Lipo batteries, brushless systems and battery chargers. But… the new "Octane" series HPI trucks might very well change all that.
If you are an rc'er that has gotten into the hobby recently, the age I like to refer to as the "mass marketing cross-over" age, you are used to hitting a local bash spot and seeing 10 electric trucks running and one guy trying to get his nitro started. As short as not quite a decade ago it was completely the opposite, you'd have 10 guys attempting to get their nitro's started and one guy with an Associated T3 pulling some trigger for 7 minutes till his battery died.
Ya, I give HPI a hard time about their massive delays in their gas engine program, but… it's only because myself, the other staffers here, and pretty much every hobbyist on the planet is dying to try one out.
That's it for this week folks, see you Wednesday night at 9pm CST and be sure to support your local hobby shops and bash spots!
YOUR Cub Reporter