THE Cub Report, 12.23.2013, Version- As Authentic as Mr Brainwash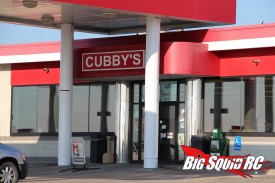 Happy Monday rc world, and on behalf of the entire BigSquidRC Bash Crew, I would like to wish you and yours a very Merry Christmas. Hopefully you've been relatively good this year and Santa hooks ya up with some sweet rc gear. Heck, even I might get the hook up from Santa this year, as I feel the kinder, gentler Cubby deserves minimally a new Tag.
Hey, our next shootout is nearly here. What shootout might that be? Another quad shootout it is, this time pitting Ares vs Heli-Max vs Traxxas vs Blade. We shot emails out to all the companies we wanted involved and they were all pretty stoked to get in, well, except for Traxxas, and we included them anyways because that's just how we roll (read- we know you wanted to see how the Traxxas stacks up). The quads in our next shootout are a size up from the last one, I'm sure you won't want to miss it, and we hope to be finished with it by the end of January.
Our Axial Jeep G6 review might be up right now, if not, it should go up any time now. We'll also be posting our review of the Speed Passion LM-1 Lemans pan car this week, as well as a review of a Tattu Lipo. So while news may be a little slow with all the rc companies off during Christmas week, as least you'll have some cool reviews to read.
I'm a busy guy, my hand is in too many different pots, so I essentially have zero spare time, hence the reason I never read BigSquidRC. Hey, I'm too busy making content to actually read any. But… as the years have passed, and I've become more deeply involved in the site, I have actually read parts of it here and there, and actually have looked at its design. For those of you who haven't actually taken a moment to decipher all that is kick'n on the site, here are a couple of things you might want to know.
Our posts have gone to one large pic with smaller galleries (when needed). While we used to run a separate "mobile" site, we've gone back to only using one site, and for the site to be worthwhile on mobile, the one large pic format works well. I pretty much only surf from mobile, and with how BSRC is set up now you can easily see what's kick'n without the clumsiness of most mobile only set-ups.
One of the most important parts on our front page is "popular articles". This is on the right hand side just below "recent posts". While other sites might sell a spot like that, or sell a spot on the list, our top ten most popular articles are unmolested, they are actually the top ten articles on BSRC based on hits. At the moment our Vaterra Halix review is up on top, with variety of other articles below it. Generally the top ten list is filled with various reviews/shootouts/hot news. This list tells you as a consumer what our massive following at BSRC is actually reading on the site. On the industry side it is also incredibly useful. If half of the top ten are shootouts, it says your product needs to be in a shootout. Or if half the top ten is reviews, your product needs to get a review. While consumers might blow by a press release and not notice it, our top ten list doesn't lie, it will tell you as a manufacture exactly what people are actually reading.
Also… we have a bunch of buttons at the top of our page, "Home", "News", "Reviews" etc, which is pretty standard fair for any website, but we've purposely kept ours tidy to make it fast and easy to get to pertinent information.
Our extensive ad banners are impossible to miss. While we would like to have one tiny banner at the bottom of the page (especially Jeff & Brian), advertisers keep the lights on at the office, as well as food on the table for us and our kids. And while you as a consumer might not like to see them, I personally like having food on my table and working servers. And… the banners you see are proof positive of companies that care about the bashing community and want your business, something you should keep in mind the next time you bust out your wallet at your local hobby shop.
Just below our social media links at the top right hand part of our page, you'll see our search box. Ya, most search boxes are completely useless, and while ours isn't perfect (none are), it does actually give you relevant information to your search request.
Anyways… After chowing down on some Christmas dinner, I invite you to take a look around the BigSquidRC site. Some of our earliest posts were lost when we switched the site around a few years ago, but otherwise there is a whole lot of bashing and general hobby information on here.
Merry Christmas and I'll be back next week with a rundown of 2013, as well as a look forward at different companies and my opinion on how they'll do in 2014. Oh ya, and like always, thanks for reading and support your local hobby shops and bash spots when you can.
YOUR Cub Reporter