THE Cub Report, 12.24.2012, Version- My Lil' Weekly Festivus Party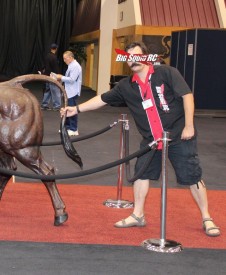 Hey gang, welcome to Christmas week. My how time flies, it seems like just yesterday we were ringing in the start of 2012, but here we are and it's almost over. I sincerely hope you guys get a few extra days off work and that your Christmas is a very merry one.
We won't be taking any days off here at the BigSquidRC offices, that's just how the internet game works. The internet game is 25/8/366, we don't work dinosaur media hours here. You guys are on-line every moment of the day, therefore we have to be ready to post big news regardless of when it might pop up. This week we'll be doing our normal compliment of articles/news/reviews, plus our Wednesday night Google + Hangout Live Show. We hope to totally hook you guys up with rc based entertainment while you are at home enjoying your holiday. There may not be "loads" of news till after the new year, but we'll be here to report any important stuff that might surface.
On a different note…
I've told this story before, some of you TCR (THE Cub Report) aficionados will remember it, but while I was growing up I raced motocross nearly every weekend during the fair weather months, and rc during the winter. For whatever reason, my departed father never watched me race, nor lifted a finger to help me in either of those endeavors. Which, as I get older, I find stranger and stranger. He was constantly chastising me for my love of man and machine, yet if he truly hated it that badly he could have instantly brought my racing to an end, but he never did. I would like to think he had some "master plan" behind his hatred of my racing, but I've yet to figure it out.
As many of you know I've got a young son. This year I feel like he's finally old enough to get his first ever hobby grade rc truck. Like many of you dads out there, I'll be placing a hobby grade rc truck under the tree for my youngster and I can't believe how stoked I am about it. There is a certain pleasure that comes with passing down one of my life long passions that I have never had the opportunity to experience until now.
I spent a good deal of time thinking about which truck was going to be his first, then prepping it to be ready for its first run on Christmas day. The first car/truck/whatever you get in this hobby is an extremely memorable event, ask any hobbyists and they will go on and on for hours about their first car, so I took picking the right vehicle extremely seriously. I ended up going down to my LHS and picking up a new ECX Torment for my son. We've had probably a dozen of them around the office and they've proven themselves as a capable noob bash machine. I have no doubt the Torment will bring my son as many hours of fun as it has brought to myself and the other staffers here at BigSquidRC. The Torment has been our "go to" vehicle for over a year now when we just want to grab a truck and play some demo derby in the parking lot or hit some small ramps.
But of course, being the noob rc dad that I am, I couldn't leave the Torment stock, I mean I am THE freak'n Cub Reporter. My son is still fairly young so he's still big into things being his favorite color, this necessitated a new Pro-Line Flo-Tek and painting it a bright red. Maybe this first red body will morph into his personal "paint scheme" in the years to come. Next up was water-dipped his motor, a "must do" if you are looking for any kind of life from an RTR brushed motor. The stock cast pinion leaves a bit to be desired, so I picked up a new Robinson and dropped one tooth. A drop in pinion size will help motor temps and run-times, plus the more precisely cut Robinson pinion will be less likely to burn up the spur. Next up was loosened the slipper a bit, at my sons age I'm quite certain he's not gonna let off the gas when up against a wall and I'd rather him burn up the slipper than some of the other drive-line parts. Finally, I charged up and installed a new 6 cell 1800 mah sport pack, set all the trims, then wrapped that sucker up. It's ready for a drive as soon as he opens it on Christmas morning, and I'm ridiculously stoked to say I am looking forward to my very first bash session with my son.
Now… I totally realize I may be creating a monster here. In the years to come my son may become an rc freak like me, spending entirely too many hours of his life truing tires, adjusting camber, rebuilding diffs, then putting in countless hours wearing out the local track.
Or… I may be setting myself up for a huge let down. My son may take one look at the truck and go "Meh, what were you thinking dad? Where is my Kindle Fire HD with Angry Birds on it?". Of course being an rc'er I'd like to see him enjoy the hobby I've spent a gianormous portion of my life on, but I'm mentally prepared for the opposite as well. Any which way, whether my son becomes an rc-a-holic or ends up dedicating his entire life to the Halo franchise, I fully intend to support whatever hobby he may end up with. My only real wish is that he finds one that he can be passionate about. I know the time I spent fanatically wrenching and racing a gold tub RC10 (and YZ Yamaha's) kept me out of trouble in my youth, with any luck a good hobby will do the same for him.
That's it for this week folks, have a very Merry Christmas with your families and/or friends, and… support your local hobby shops and bash spots if ya can!
YOUR Cub Reporter