THE Cub Report, 12.30.2013, Version- Apologies for the Frivolity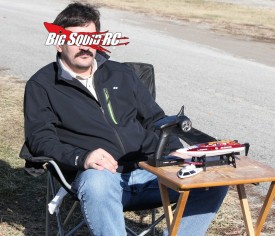 Hola everyone, I hope you had a great Christmas, and welcome to the last Cub Report of the year.
First up- BigSquidRC notes. This Saturday we'll be finishing up our latest and greatest quadcopter shootout at a track in Paxton Illinois. If you are a reader or a member of the industry and want to check out our shootout process, or just want to hang out with the bash crew, you are officially invited. For more details hit the contact us link and shoot Brian an email for the specifics.
We'll be naming our "2013 Bash Vehicle of the Year" tomorrow. We tested a bunch of kick ass vehicles this year so we still haven't decided the winner, but right now the top three are the Pro-Line PRO-2 short course truck, the ARRMA Granite BLX monster truck, and the Duratrax 835E buggy. The Pro-Line is super trick, tough, and flies around a track. The ARRMA Granite was our vehicle of the year last time around, the BLX version is even better. And… the Duratrax 835E is a tough 8th scale buggy that handles well and takes a solid beating. Check out our front page sometime on Tuesday to find out who we end up picking.
And yes, the BigSquidRC Bash Crew are the only people with a say in our "Bash Vehicle of the Year", but you guys get your chance to have your voices heard when March Bashness rolls back around.
We've got a couple of reviews coming your way this week, the Durango DEX408 V2 buggy and a Helion Lagos boat. I'm not for sure exactly which day they will hit, but both will go up this week. Also of note, we should have a very sic video of the Durango to go along with the review, we were certainly hucking it sadistic style.
On an F1 note, if you have not heard, Michael Schumacher is said to be "fighting for his life" today after a head injury suffered while skiing in France. I only worship two people, God and Michael Schumacher, and not necessarily in that order. Here's to hoping Schumi pulls out of this one just fine…
So… 2013 is nearly in the books, and what a year it was for rc. We saw various big names change hands, we've been told by an LHS owner that the hobby is in a state of "terror", and depending on who you talk to, 2013 was either a banner year or a huge flop.
Traxxas- If anything, Traxxas had a wild year. On the product side of things they didn't release anything crazy, although they did dust off the LaTrax name and stuck it on some low end rally cars. They are rumored to have gotten rid of a bunch of people in August, they don't look to be a part of the TORC series next year, and it is rumored that a divorce is changing the landscape for the big Texas company. Some industry types will tell you that Traxxas has singlehandedly kept the hobby afloat since the T-Maxx, and if they are to falter, it would have huge ramifications throughout the hobby. For 2014 I can only hope they get back to doing what they do best, putting out affordable bash vehicles.
Hobbico- If there has been one rock solid company in rc over the decades, it has been Hobbico, and in 2013 they once again proved why they are number one. Solid marketing, people who have their heads screwed on right, and a commitment to the hobby have kept Hobbico/Great Planes/Tower on point. For 2014 I think you can expect more of the same. They've turned around their in-house Duratrax line, and with the scale scene being white hot Axial is a great showroom performer. Durango keeps getting better, ARRMA is a hit with the bash crowd, and when you throw in exclusives with Futaba, HPI, and Thunder Tiger, good ole' Hobbico is looking mighty good for next year.
Horizon- They also had wild 2013. Vaterra, their uber slick looking scale/basher line-up, is still new and growing. Their entry level ECX line-up also continues to grow and is quickly making its way into more and more basher's hands. Going into the new year Horizon is in the process of changing hands, which many an industry type thinks is filled with doom and gloom, but I am one of the people that thinks it will work out for the best. Time will tell, but they have a lot of good people in place and some solid product lines.
HPI- So 2013 was definitely a wild ride for HPI. While we've heard some of the details of their exclusive Hobbico distribution deal, there are still people out there that think they were bought out completely. They didn't put out much new product in 2013, and their yet to materialize "Octane" series gas powered vehicles have become the punch line in many an industry joke. Alas, 2014 could be their year, they are great at scale and that genre is super hot, and their Octane stuff could turn the industry on its ear. However, do they have the capital and marketing prowess to pull it off? I see 2014 as a make it or break it year for HPI.
Associated- Ya know, I am a big Associated fan and I have driven 2wd AE buggies more than anything else during all my time in the hobby. Therefore… I have been anxiously waiting for the B5 just like many of you. Sadly, when the B5 and B5M were announced all I could think was "facepalm". Yes, AE is much different now days, and have been since being acquired by Thunder Tiger, but I still can't wrap my head around how far behind they get sometimes. When people think Associated, they think 10th scale buggy, and the B5 is yet another "catch-up" vehicle. Long gone are the days where AE was leading the world of rc innovation, these days AE seem to be all about hitting the showroom 2-5 years late. The B5 could have been a bold new statement that they are still capable of industry leading innovation, instead it fell short. I have desperately been wanting AE to give me a good reason to bust open my wallet on some of their product, I want to give them my money, but they still haven't put out anything innovative enough for me to pull the trigger. "Sigh". I hope for 2014 they skip the "catch up" products and start funding "way ahead of the curve".
Pro-Line- The King of all the aftermarket companies pulled the trigger on their very first full vehicle in 2013, which was a huge statement piece and sounds like it has been a good seller for them. Like always, they've got their act together, they are dialed with their marketing, and 2014 should be huge for them. More and more companies jump into the tires/body market each year, but Pro-Line always finds a way to stay on top, I can't wait to see what they have in store for the hobby in '14.
So…
What will be the trends in 2014? From talking with multiple industry insider types, I think the biggest trend I heard was "less, less, less", instead of "more, more, more". Instead of you seeing a bunch of new company names in '14, you will see less and less. And where companies used to put out boatloads of new products each month, several industry types think that will downtrend. For example, if Happy Flower car company put out 15 new cars in 2013, you might only see 5 or 10 from them this year. The trend of putting out a huge variety of product (with a short shelf life) might just be replaced by fewer products marketed to stay at the top of peoples wish lists for a longer time span.
Happy New Years to you all, thanks for reading BigSquidRC, support your local hobby shops and bash spots, and see ya next year.
YOUR Cub Reporter