THE Cub Report- 12.31.2012, Version- The Year That Was 2012, My Annual Year In Review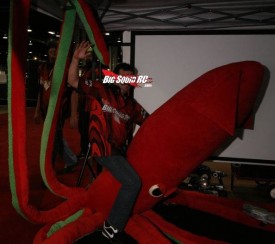 Being the last day of the year it's only fitting that I write up my annual year in review. I not only looked back over the last 94 pages of posts here on BigSquidRC, but also called some of my industry homies to "boil down" how the year 2012 will go down in the rc history books. Lets dive in shall we?
Biggest news of the year- There was tons of "big" news in 2012, but the biggest of the big was the announcement that Traxxas was entering the air market with their QR-1 quad and DR-1 heli. Announced late in the year Traxxas was still able to get these on LHS shelves before X-mas, and speaking to shop owners they sold very well. However, hard-core Traxxas loyalists were left in disbelief, not understanding why Traxxas would jump into the air market while so much of their surface line is in desperate need of updating.
While the air gear was their biggest news, Traxxas kept themselves in the limelight all year long. The XO-1 Supercar was announced late in 11′, but shipping in Feb 12′, and you couldn't get away from the hype machine around it. A couple months later came the widely publicized but poorly received Traxxas drag car. Throw in their new Rally car and LCG Slash 4×4 and Traxxas had yet another year at the top of the buzz (and sales) charts.
Second biggest news- Early in the year it was announced that the Champaign behemoth Hobbico had made a deal to acquire Axial, Durango, and ARRMA. This was some serious eye popping news to many industry peeps, they knew Hobbico has the cubic cash and market savvy to use those lines to take their world domination to a completely new level. Axial was already a hot name brand in America, but during the year you would have to blind not see how Durango and ARRMA climbing the sales charts here in the USA.
Biggest dropping of the ball- It was August 2011 when HPI first announced that they were attempting to put gas (not nitro) engines in regular 10th/8th scale rc vehicles. A few months later in February 12′ at the Nuremberg Toy Fair, HPI had multiple models on display all showing off their "Xtreme/Octane" series engine. While HPI did tease us once again a few weeks ago in mid December, we've yet so see one come to fruition. We really just want to drive one.
Biggest head-scratcher of the year- When the announcement came off the wire that HPI was now the exclusive distributor for Hobao in North America we weren't the only ones scratching our heads.
Euro gear coming in style- You may or may not still consider Durango a European name, but alas, companies like X-Ray, Serpent and Schumacher also made positive strides in America. Many industry types make claims like the Euro's are just trying harder right now, they are more focused, pushing harder, the internet is changing the game, etc, and I think you can look for more European brands to start making waves in the American market in the next 12 months.
Product trends of the year- 2012 will go down as the year that saw the emergence of the Rally car, quadcopters, scale off road buggies, nitro powered SCT's, an uber battery charger war, and of the 8th scale roller "XO-1" killers.
Rally has never been "so cool" here in America, and both Traxxas and HPI capitalized on this by putting out new rally style cars.
Quads which were once considered $19 stocking stuffers by true hobbyists, but they became a hot item after Traxxas announced their QR-1.
For scale buggies, Axial got their EXO Terra Buggy to the market, the HPI Apache hit (and missed), and even Associated threw their hat in the ring with the SC10B.
Associated made the news again with their SC10GT, Losi announced their Nitro Ten SCT, and finally Traxxas showed their hand and entered the nitro SCT market with their Nitro 2wd Slash. New offerings for the nitro crowd have been minimal in recent years, but the nitro SCT's of 2012 gave fuel burners something new to play with.
After years of brushless/Lipo dominance, the battery charger companies went balls to the wall in 12′. Everywhere you turned was another company putting out some uber mega high current charger. Venom put out a charger with built in speakers, iCharger put out a charger you can probably weld with, and TrakPower put out one of the most esoteric chargers the market has ever seen. And.. uber chargers weren't only about putting out ridiculously huge amounts of power, they were also about doing so on multiple channels. Reading some of the specs now days reminds me of the old car stereo days- 4 channels, bridgeable, mono-block, 500 watts, etc.
Why pay over a grand for a Traxxas XO-1 when you've already got all the electronics sitting in your garage? Late 2012 showed multiple brands putting out 8th scale roller on-road cars ready to bust out triple digit mph numbers once you've slammed in your own electronic goodies. Going crazy fast on-road should continue to be a big trend in 13′.
Accessory companies blowing up- Pro-line is no stranger to having huge years, but a number of other accessory companies put their dent on the scene in 12′ as well.
Pro-Line was everywhere in 12′. Their product line-up exploded with items for not just racers, but also for scalers and bashers. Pro-Line also went WFO on the 2wd Slash, now offering nearly a complete truck of their own in replacement parts. Also of note was the staggering amount of product give-aways that Pro-Line did over the course of the year. 2012 was Pro-lines 30th anniversary and they certain did it up the right way.
JConcepts made their waves too. They are living the dream, getting bigger and bigger and 12′ was a banner year for them. From spur gears for the Slash, to a high speed Traxxas truck body, to tons of racer gear, to sponsoring tons of races across the country, JConcepts was pushing it hard all year long.
RPM ventured out to numerous new models in 2012 and put out perhaps their most involved product yet- a tranny case and metal motor mount for Traxxas 2wd trucks. Consumers have been asking RPM to branch out a bit for years, in 12′ they arguably branches out more than ever before.
MIP, who has been a player in the rc game for years, saw a fresh resurgence in 2012. Their Pro4mance kit for the Losi SCTE and uber shock pistons got the ball rolling early in the year, and they are looking more solid than ever going into 13′.
RDRP blew up on the accessory scene in 12′. A little known Euro company a few months ago, they are now one of the "hot" brands to have in your pit at the local track.
Exotek was once a tiny company making a few 18th scale parts, in 2012 they really expanded their product catalog and market share.
You can't talk about upgrade parts without talking about STRC. They landed a big deal with Great Planes and keep putting out more and more parts for nearly every vehicle (worth owning) on the market, plus their LCG Chassis for 2WD and 4WD Slash Vehicles!
Other significant happenings-
Thunder Tiger was once a joke in the American market. Today, with distribution from Great Planes, they are one of the biggest names in the bashing market. After multiple new releases in Q4 of 12′, expect their market share to keep on growing in 13′.
Firelands Group is making some waves. From Anza hop-up parts, to Helion, to Radient, to Ares, they might just be the model company of the future.
Venom Group had a big year. From putting out loads of innovative products, to changing their name to Atomik (and seemingly failing, everyone still calls them Venom), to inking a deal to sell Brian Deegan/Metal Mulisha gear, Venom is working their way towards the front of the pack.
Associated made the news here and there, the introduction of their SC10B was huge news, as was their announcement of their new "Qualifier Series" basher line-up.
ECX also had a big year. Sales were solid and they ventured into uncharted territory with their new 8th scales, one electric, and one nitro. Expect to see more big things from ECX in 2013.
Kyosho made a push in 12′ with loads of new products (the Scorpion XXL Ve for example) and a solid marketing push. Unfortunately their distribution blows here in the states and most consumers only saw the new stuff on the web, not in their LHS.
Oh ya, BigSquidRC had pretty good year too, thanks to you guys-
Our March Bash-Ness contest was huge again, and it sported a controversial winner, the Helion Dominus. We did a great job of busting out juicy Traxxas news in good time and our "chat with us in the forums" morphed into our live Google Plus show. We also had solid coverage of not only iHobby, but of RCX SoCal, Nuremberg, and the HobbyTown USA show. And lastly… traffic was once again way up, for that we must salute you guys out there!
That's it for this week ya'll, next week will be my also annual "looking forward to the coming year" Cub Report, till then, support your local hobby shops and bash spots!
YOUR Cub Reporter