THE Cub Report- A Weekly Exercise in Non-Sense, Version 01.16.2011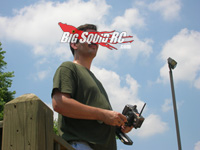 Ready for yet another big week in rc-land? I know the crew at BigSquid is, hope you are too…
BigSquidRC has started a new weekly "column" of sorts called our Tuesday review. So in case you have yet to notice, be alerted that each and every Tuesday we'll be posting an all new way-super-duper-dope product review (and rumor has it we'll be posting two this week!).
Where ever you might work, do they put stickers in with your paycheck? Does Red Bull put stickers in with Pastrana's paychecks? Does Bill Gates include them for his Microsoft employees? Well, we get'em here at BigSquid, and…. Brian doesn't just put little bitty stickers in the checks either, they are the great big ones that only fit on the sides of full size cars or large Snap-on toolboxes. If he is gonna super size the stickers can't he at least super size the paychecks (ya know, like Happy Gilmore style)? If the worlds supply of adhesive is exhausted in the next few months you'll know where it all went to, so just FYI…. 🙂
The rc world revolves around Traxxas now days, with another case in point being their exposure on the Monster/AMA/FIM Supercross broadcasts. Last weekend the race was televised live from Phoenix and during the post race interviews the Traxxas logo was prominently displayed on the podium. Yup, in clear view right behind the Lite class winner Pro Circuit/Monster/Kawi/Traxxas riders head Josh Hansen was a big ole' Traxxas logo, and it was right there for Bubba, Villopodium and Canard in the Supercross class as well. I hate to sound like a re-run from last week, but it's just beyond cool to see Traxxas involved in prime time live Supercross.
The Nuremburg Toy Fair is nearly here kicking off on February 3rd. Expect full coverage from your favorite basher types right here on BigSquid. We can't release any word on "hot" new releases that will be debuted at the toy fair yet, but you know those crafty industry types always have more uber stuff on the way.
Spektrum introduced their new DX3R Pro (complete with 50 model memory and drop down wheel) last week, here's to hoping its got better range than the DX3S we TESTED!
Arguably the fastest rc racer on the planet, Jared Tebo, made some big news last week by switching fuel companies, going from Byrons to a new company by the name of Maxima. IMO Byrons is some of the best stuff on the planet (if you simply must run nitro), so here's to hoping Tebo the best of luck running the new stuff. In perhaps bigger news, Tebo has recently mentioned expanding his personal JTP (Jared Tebo Products) line-up for 2011 (which used to consist mainly of t-shirts and sweatshirts), something that should be really cool as anything Jared has input on is bound to turn out pretty uber.
Wanna chance at winning a ridiculously uber Kawasaki/Traxxas KX450F? Hit your nearest Monster/Feld/AMA/FIM Supercross and get entered! Complete rules HERE.
Lastly, the crew here at BSRC has recently gotten the opportunity to interview the owner of a very large rc manufacture that starts with the letter "A". It's not close to being posted yet, but keep your eyes on the main page for it in the next few weeks. We do Not hold back on our questions, so the interview should be quite revealing (to say the least).
With that I'll bring yet another sizzling edition of THE Cub Report to a close. Go left, turn fast, and until next week, drop by your LHS, tracks and bash spots and let'em know how much you dig your hobby.
YOUR Cub Reporter