THE Cub Report- Bad Moon Rising, Version 03.20.2011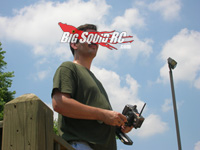 Holla rc fans, you've come across yet another fantastically satirical edition of THE Cub Report, the column that makes people with a sense of humor giggle, and those without, well.. they have epic meltdowns. 🙂
Australia + 3 days, 20 hours, 14 minutes and 56 seconds = Formula 1!!!!
Speaking of epic meltdowns, while I was in Jacksonville Florida last weekend I got to witness the AMA Supercross series have its share. Did the big bad full moon have anything to do with it, or was it caused by THE Cub Reporter being on premises? I don't know, but the Supercross series points look a whole lot different now than 48 hours ago. In the East Lites class Monster/PC/Traxxas rider Blake Baggett was second in points go into J-Town, but he failed to make the main, dropping him out of title contention. Geico/Honda/Associated rider Justin "the Martian" Barcia went on to win the Lites main, cementing his East Lites points lead.
The real meltdowns actually came in the Supercross class, where points leader Ryan Villopoto failing to qualify for the main, and James "Bubba" Stewart crashed out (hard!) of the main on the first lap. Villopoto went from being over a race ahead in the points to only leading second place Chad Reed by 7. Bubba went from second in points to a distant 4th, but luckily he was not seriously hurt and is said to be racing this weekend in Canada.
Before I left for Jacksonville last week I got in some trigger time with a couple of our BSRC test trucks. Brian posted his review of the Electrix Ruckus a while back, but I didn't get to wheel it till just last week. Ya, I'm one of those guys that likes tech/race type vehicles, but I had a blast driving the Ruckus around. The Ruckus drove better and had more yank than its price point would indicate, and more importantly, we still haven't broke a single part on it, and I can assure you I drove it like I stole it. Heck, it was even able to make some of the big double jumps at our test spot, something I never thought a truck at its price point would be capable of doing.
The second test truck I've been getting a lot of wheel time with lately has been the Venom Gambler RTR. I should have the full review ready for next Tues. The Gambler is a gorgeous looking truck that Venom obviously spent a lot of time designing.
Horizon introduced their new Electrix Boost RTR buggy last week, which prompted a lot of discussion between myself and my industry friends. So lets say you are in the market for a new rc buggy this summer. Lets say you look at AE's lineup and you see the tried and true B4.1. The B4.1 is a great buggy no doubt, but the 4 series buggy platform is far from being a spring chicken. Now lets say you look at what Horizon has to offer- they've got the new Losi 22 for the uber racing crowd, they've got the XXX SCB, which IMO is going to be the hottest thing to hit the market since the Traxxas Slash, and they've got the Electrix Boost for the entry level market. To boil it down, if you are looking at buying a new buggy this summer Horizon has all the bases covered, Associated, has an old workhorse. I think it's pretty obvious who is going to pwn the buggy product category this summer.
RC Car Action hosted their RCX hobby expo over the weekend out in the 909. BSRC sent Jeff "The Uber Web Dude" Hoy to cover the show, so keep your eyes peeled on our main page the next couple days as Jeff finishes up his show coverage. Btw, for you readers that may not know, walking around an industry show in a BSRC shirt is typically a lot of fun, readers come up all the time saying how much they dig the site, and the majority of industry peeps say the same. But, and there is always a but, a BSRC shirt can bring the wrath from some of the industry types that don't enjoy me ripping them a new one each week in THE Cub Report. So props to Jeff for hang'n in there through some pretty rough "conversations". And just FYI for you readers- just know that we wear each and every a$$ chewing as a badge of honor, it means we are doing our job here, telling things how we actually see them, not just printing what some advertiser likes to read. Here's a link to our RC Expo 2011 coverage.
Jeff reported back that RCX had excellent consumer attendance, so props to all your guys and gals for turning out and supporting rc. It's not surprising that both the latest RCX and iHobby shows have had large turnouts by consumers. Rc hobbyists are freak'n core and love showing their support. I know on the industry side there are a lot of companies that are simply burnt out on the show scene and/or whos business has been slow and find it unjustifiable to spend the money on a show. But… can you really put a price tag on making a show and spending face time with the people that dig your product? Or a price tag on how much free advertising you get via show coverage from the mags and on-line sites (like BSRC)? Or a price tag on making a contact at the show that totally turns your business around via shooting the bull over a couple beers? While working in the industry makes it really hard to have the passion about the hobby that consumers do, the best moral booster for me is spending time with consumers. When I'm burnt out working on hobby product spending a weekend at a trade show, or local track or bash spot with those that live for the hobby makes me a whole new man when I hit the office on Monday morning. So to finally digress, consumers continue to set record attendance at the trade shows, and even though we are in a tough economy, the manufactures should return the favor and do the same.
One last note- BSRC is hosting a pretty uber March-Bashness. Readers will be voting to determine the ultimate rc bashing machine, with one of them winning a cool prize. Keep an eye out on the main page to put in your vote!
That's it for this week, thanks for reading, and support your LHS, local tracks and bash spots!
YOUR Cub Reporter