The Cub Report – End of February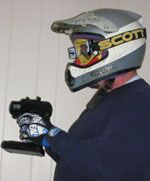 I'll get right down to the most important thing that happened this week in rc. Brian, CEO/CFO/C-Everything-O at BigSquidRC showed that not only does he have mad skillz on an rc drag track, but showed mad crawling skillz as well by winning his
first crawling event over the weekend. Crawling world watch out!! Brian likes to get into something new and pwn it asap!
Looking at new products this week left a lot to be desired. Nothing of real note was released, just the typical nic-nac crap. Yawn.
The rc world is ripe and about to burst waiting for the first production 8th scale off road electric buggy/truggy. You can't go anywhere without seeing the signs. The technology is here to do it. Whoever is first to the plate is going to make some mad money. (And AE will release their version about 10 years later, B44 anyone?)
This sport has had two boom periods. The first in the late 80's, when hobby grade rc cars were relatively new to the world. And the second came when the Traxxas T-maxx was released. It amazes me that you can still go to pretty much any track and see evidence of these two era's. Ask around in the pits, and you'll find that most 90% of the people at the track got into the sport during these two boom periods.
It certainly doesn't take a rocket scientist to see that the third boom period for our beloved sport is nearly here. The circle will become complete yet again when the rc world turns back to electric, away from nitro. And goodness knows, the sport could use the boost, with nearly record low sales and race attendance.
My guess is that Horizon/Losi is going to be the first to step to the plate with an electric Losi 8 buggy. They've already made the leap to selling a li-po powered rtr, and by releasing their "own" line of brushless motors and speedo's. If Horizon/Losi isn't first, then it might actually be Hobbico/Duratrax. I say this based on the
fact that only Horizon and Hobbico have enough financial backing to put up a proper legal defense.
Do you remember back in the 80's when 3 wheel atv's were all the rage? It only took a couple years for them to become dinosaurs because of litigation. It only took a couple kids getting their grapes popped and a few million dollars being awarded to their families to permanently change the face of the atv world. That is what is
still known as the litigation era of that sport, luckily, the rc world has yet to see one of those.
Any company wanting to sell an 8th scale bl and li-po rtr is staring dead in the face this same problem. It's only going to take one landmark court ruling to put a company out of business. There is a lot at stake here- make big money by giving the public what it wants, while facing the very likely chance that some idiot is going to burn down a house full of babies while charging his Brand XYZ brushless/li-po truggy.
That's it for this week geeks. So hit your local hobby shop, hit your local tracks, and remember, we are in this to have fun.
Cub-Reporter Out