THE Cub Report, Snow Miser Edition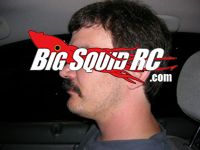 Ya, everybody and their Uncles brother is b**ching about how cold it is in the greater Chicago area. I consider it "perfect wrenching" weather. You just know you have a half dozen old cars that need the tlc. So there, all you Snow Misers.
America's iconic rc manufacture, Associated, did a great job of teasing before the release of their SC8 short course truck. This week, AE started the teasing on their new SC10. Only thing, the teasing this time sucked. Come on, a simple banner saying SC10? Even my illegal immigrant Mexican neighbor knew AE was coming out with a Slash killer, just a matter of time and at what price point. Spy photo's are a great tease, but a banner stating the models designation is just fluff. So while this tease sucks, it's nice to know AE is going to try to be the first to release a Slash clone. Sweet, in before the flood I guess.
Wow, even I didn't think Trinity was going to catch the backlash that they are with their Li-po warmer. That thing might not (read- should not) make it to dealer shelves. Who was the brain surgeon that put the warm-up temp at 140 degrees? Achtung- you really want to avoid 140 or greater temps with lithium based batteries. Yet, they are making a device that purposely warms them to a borderline temp? I don't think even Johnnie Cochran would take the defense on this one. Oh have the mighty have fallen, just how much lower can they go?
Btw, there is only two ways of stopping all this bulls**t Li-po warming, bumping, tap-shorting, ect. Eliminate the need for trying to enhance the output of these cells. How do you do that? First, eliminate cell count limits, ie- make 3S, 4S, 5S, 6S LEGAL. Secondly, eliminate all this spec motor bulls**t. If open Kv motors are run, there is No Need to warm/bump/tap Li-po batteries. So if you are a sanctioning body, and you have some stupid 2S cell count limit and .5 turn spec rules, YOU are the ones to blame for all the dangerous crap racers are doing to their Li-po's. Step up to the plate, make the smart choice and change the rules before somebody's track gets burnt to the ground (maybe with some of your "members" inside of it).
The print mags are hurting. Not just in the RC world, but universally. The future is the internet, either hop on wfo, or go under. Notice that this months RCCA is 30 pages thinner? RCCA is the icon of RC print rags, but even that icon is having a tough go in these times. If it's not pressure from internet sites like BigSquidRC, it's the crap economy. What a blatant sign of the times when the big bull of the RC print mags is shrinking. It's elegantly simple, who cares to read in print what they already read on the net 2 months ago?
I thought the Traxxas Summit looked awesome at I-Hobby. Had all the makings of a great crawler, right? Well, seems the Summit is having an identity crisis. The crawler guys have no love for it, as it's not "core" enough for them, yet the basher guys would rather buy/drive the E-Revo. Traxxas hit the mark with the Slash (hell they created the mark with that one), but seems they just missed it with the Summit. No pity for those guys though, I'm certain they've got more aces up their sleeve than Les "Worm" Murphy.
Guess what? Pro-Line came out with something really trick this week- the Carnage body for the Slash/Slayer. You haven't seen it? Damn, get on the internet more! It's a body that features fall away fenders, so when that noob behind you holds it pinned and takes you out in the next corner after you pass him, your fender falls off just like in real racing. Ok, it might be a little on the dorky side, but it's trick in the realistic/scale context. And hell ya, I must get one of these. I can't wait to call up a half dozen of my favorite Slash driving buddies and have Slash demolishing derby while using these bodies. Fun, fun, and more fun, exactly what this hobby/industry needs to make it through this recession.
That's it for this week Squid fans. Catch you again next week. Till then, support your LHS and local tracks!
Your Cub Reporter