THE Cub Report, Version 01.17.10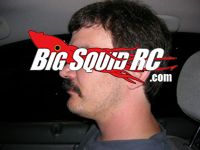 Congrats to Rockstar/Makita/Suzuki rider Ryan Dungey on his first AMA 450cc Supercross class win Saturday night in Phoenix. Ryan is basically a rookie in the big bike class, but has already shown in the first two races of the young 2010 Supercross season that he will be a threat for the title (as he leads the points chase right now). In the Supercross Lites class, Rockstar/Canidae/Suzuki rider Ryan Morias lead the lites main in Phoenix for several laps, but in the end Ryan finished second on the podium. What does this have to due with rc? Yet another sign of the times that rc is inching towards the mainstream, that's what. I was quite stoked to see the press release that Horizon/Losi has decided to sponsor the AMA Supercross Lites class team from Rockstar/Canidae/Suzuki. Horizons sponsorship will help expose hobby grade Losi rc trucks to hundreds of thousands of supercross fans.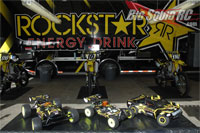 Marketing to the motocross/supercross crowd seems like a natural thing for rc to due as both crowds love dirt, mud, jumps, and competition, but has been left largely overlooked by the guys in suits that cut the advertising checks in our hobby. Thank you Horizon for your decision to market using a team on the AMA Supercross circuit. To view some trick looking Losi trucks, just check out the Rockstar/Canidae/Suzuki pits at an AMA Supercross near you. Click HERE for the 2010 AMA Supercross schedule.
It seemed like last year I spent a lot of time bitching about how ugly some of the new rc bodies were. Well, this week JConcepts released info on one of the best looking bodies I've ever seen, their new Manta Slash body. The JConcepts Manta looks like an uber realistic short course truck, and just plain looks way super dope. Great job JConcepts.
How about some good Monday morning water cooler fodder? Well here's some, Cubby's top two ways to fix local racing. 🙂
I've talked to literally dozens of long time industry types, several of which are walking talking rc legends, and after mucho discussion, here are my top two ways to fix racing at the LOCAL level.
1. Open up Buddy/Hobby Classes- Years ago during the T-Maxx craze, I was running an off road track. One weekend, we had three buddies show up with their T-Maxx's. These three guys had already hit two other tracks and had been turned away. They were told "We don't have a monster truck class at our track", so of course they left and continued on to the next track looking for somewhere to race. They were told the same thing at the second track they hit. Finally, one Saturday they hit the track I was running. At that time, nearly all our racers were "hard core" 10th scale electric buggy and truck racers, and they were none too happy seeing some goofy/smelly/big-tired/track-chunking nitro monster trucks out on our course. I guess would could have thrown the T-Maxx buddies into our 8th scale nitro buggy class, but that hardly seemed fair to anyone involved. I did not want to see these three noobs get lapped a dozen a times (and possibly their trucks broken by the large difference in speed), get discouraged and never come back again. So what we came up with was this- we held a separate "buddy" class for these 3 guys. They went out and had a blast racing against each other, and over the years, they kept showing up. None were talented or skilled drivers, none were great set-up guys, but each had a blast racing their rc trucks against each other, so much so that many others wanted in on their class (but we didn't let them). To the others that wanted in, we suggested they get some of their own buddies and race together. So how does this apply to your local track? When you have a group of noobs show up that aren't looking to win an IFMAR title, instead of throwing them in with your local hard core racers that are going to lap them into submission, see if they are willing to race against their buddies while they learn the ropes. You might have one guy racing an 8th scale buggy, the next a Revo, and the next a Blitz, but it's all good (and for fun) in the Buddy/Hobby Class.
2. Use inverted starts for the mains (with a twist)- Let's say during an average day at your local track you have 3 entries in the Spec Slash Class. The TQ does 20 laps in 5 minutes flat, the second qualifier does 19 laps in 5 minutes flat, and the slowest qualifier only puts in 18 laps in 5 minutes flat. For the main, put the 3rd qualifier up front on the grid, put the second qualifier after him, and the TQ at the rear of the field. But here's the kicker, add stagger at the start of the main. For example with our 3 Spec Slash guys, the slowest qualifier goes at the tone, the second qualifier, who was one lap faster than the 3rd qualifier would go one lap later, and finally the TQ would leave the line yet one lap later. This gives an equal chance for every driver in the main to win. Can you even imagine that? Can you even imagine the slowest qualifier in the field having a chance to actually go home with a smile on his face rather than leaving all discouraged? The biggest problem with racing at the local level is the hard core guys beating the noobs by so much they get discouraged and never come back. This plan could easily fix that problem. It could also fix the problem of guys pushing too hard in the quals and getting all pissed off when the crash, or get a bad marshal, or get hacked. THINK ABOUT IT. And if you have the F'n Balls, hold a separate class next weekend for guys that would like to try this format. Remember, local racing is for FUN, yes for FUN.
That's it for this week. As always, support your LHS, local tracks, and your favorite bash spots!
YOUR Cub Reporter