THE Cub Report, Version 02.14.2010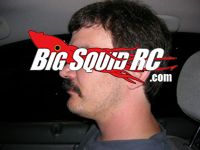 Are there still any truly "important" rc races left? Well if there is one it's the IFMAR 8th scale off road world championship, and the "warm-up" or "pre-worlds" race was held in Thailand last week. Hot Bodies came out swinging, dominating qualifying first, second and third with their world championship D8 nitro buggy. The top D8's were piloted by current world champ Hara who qual'ed third, American Jesse Robbers in second (who's been on one heck of a good run lately), and 17 year old Canadian phenom Ty Tessmann powning the TQ spot. After all was said and done, the Hot Bodies guys all had some gremlins, and local Thai Mugen driver Meen Vejrak (who??? but damn that name has some possibilities for killer nicknames!) ended up winning the event. Congrats to Meen, you are the man, well, at least till the official world championship race comes around late this fall.
Btw RC Industry types, I know of a product that even I'd crack open my wallet to buy that nobody current makes- a trick off road tire cleaner. I HATE (read- F#%@**% HATE) cleaning my muddy off road tires, yet I spend at least an hour a week doing that pathetic chore. There has to be a better mousetrap, please MAKE ONE. Thanks! (and send all royalty checks to BigSquidRC in care of Cubby) There are a zillion hole reamers out there, a billion different hex wrenches, literally hundreds of brands of brushless motors, but not one trick (yet affordable) tire cleaning station. Why not jump into a product area where there is no competition and that nearly every off road racer needs?
This is going to be a rather short Cub Report, partly because I'm lazy (ok, mainly because I'm lazy), but also because I've got a raging case of writers block. So if you are in the RC Industry, feel free to shovel me some good dirt to flip out on. 🙂
The second BigSquidRC li-po battery shootout is nearly underway. Looks like we'll have about 4-5 battery manufactures involved, including Team Checkpoint, and yes, even a Zippy pack, among others.
That's it for this week folks. Support your local hobby shops and tracks!
YOUR Cub Reporter