THE Cub Report Version 02.22.2010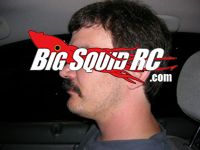 Hello BigSquid fans, and welcome to yet another luxurious edition of the much maligned and frequently litigated Cub Report.
Did you know a couple of wars are going on in our hobby? The first war involves speed controllers, and it's really heating up- a war to see who can pump the most timing into a 17.5 turn brushless motor. We've got Advanced Electronics (with their $400 Black Diamond), Tekin, Castle, Speed Passion, Novak and LRP on the front lines of this one. Tracks don't know what to do with these "cheater" speedos, consumers are cringing at the continual spiral upwards in prices, and 17.5 motors fear for their lives when being asked to perform at 50 degrees (or more) of advanced timing. Sad really, as this "war" doesn't need to take place, as 95% of the people racing "stock" now days should have their a$$es in mod, and "stock/super-stock" classes are simply a joke in the brushless era to begin with.
The second war heating up is 8th scale tires. In the last week we've seen new 8th scale tire releases from Pro-Line, AKA and Losi. Pro-Line introduced their all new Recoil race tire, engineered to last long, yet give incredible grip, and should be one of the first tires available in their new uber soft M4 compound. AKA announced their new Enduro tire, yet another innovative design that should have racers rejoicing. Horizon/Losi showed their new Digits treads last week as well. Throw these tires into an already crowded showroom loaded with entries from JConcepts, VP-Pro, Panther, Hot Bodies and many, many others, and this war is actually good for end consumers. The new tire designs do offer better traction, and most offer longer wear. Both huge pluses to the average weekend warrior.
That's it for this week Squid freaks. Support your sport (ok, hobby) by visiting your local hobby shop and track or bash spot this week!
YOUR Cub Reporter