THE Cub Report, Version 02.27.09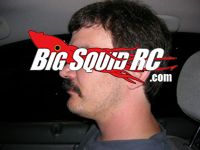 So here is an interesting twist on this weeks Cub Report. Normally I'm here opening my big mouth and waiting to get a phone call from the Big Squid about how he can't believe I would post that… well this week I got a little help. Seems someone under the name "R/C Ninja" sent Brian a little fuel for the industry rumors that have been floating around. How I enjoy posting news that nobody else will talk about, and then having an anonymous industry insider help out with some of the stuff I touched on! If any of you industry types want to send us some anonymous news, feel free! While the magazines wont post this stuff, we sure will!
Please note, all of this information is still being posted as RUMOR! It's very hard to confirm this stuff, when most places hang up on me! "Hi, this is Cubby from Big Squid RC" *click*, Hello?
First up, a company we don't talk that much about, Serpent.
A while back you might have heard that they went bankrupt and was sold to a Chinese manufacture. Serpent representatives quickly came on all major R/C message forums to clarify that the company is doing fine and it has not been sold…well, IT IS TRUE! Serpent had gone bankrupt a few years back and once a high-quality, high-end racing European company is now indeed owned by a Chinese manufacture by the name of World Model (owner's name is Mr. Shiu) The price tag paid for the purchase of Serpent was told to be around 3 million USD…however, the word on the "street" is that Mr. Shiu regret just about every penny that was paid for the purchase. If you look at the latest Serpent offering (the 1/24th scale and 1/12th scale) these are the type of vehicle that Mr. Shiu's company; World Model is known to produce after market option parts for…and the reason for the insanely high price of Serpent products? Well, Mr. Shiu no longer owns any of his own factories associated with his original company World Model as he sold them awhile back, so he actually has to contract out Serpent's production and manufacture requirements thus raising the cost of Serpent products. With the high price of their product and the racing market being just a small segment of the industry…I find it hard to see Serpent being a viable company in the future.
Up Next, Kyosho America. (Hi Sr. and Jr. Losi! We really appreciate you reading the column, and the emails from your guys, but this is news we have to post.) This one is really filed under the VERY RUMOR section because the sources are not the most reliable here.
Well, AKA is out of the building and now its own entity, and the real hurt starts now for Kyosho America. Team Orion (part of Kyosho) is not doing well, and I was told that Kyosho actually over paid what Team Orion was worth to acquire the company (other companies like HPI, Yokomo, were all approached by Team Orion, and most if not all of the manufacture thought Team Orion's asking price was insane). The new rumor is that, by summer time, Kyosho products will be housed in the same warehouse as…..*drum roll*…..HORIZON WEST (basically in the same building as Team Losi in Horizon's Ontario warehouse (also known as Horizon West). For the many years that Kyosho America existed, they have not turned a profit, however, the years when Tower Hobbies/Great Plane was handling Kyosho product, it was at least profitable for Kyosho Japan. Thinking that they can do an even better job in capturing US sales and eliminating the idea of internal product competition (Kyosho products vs. Duratrax…etc.) Kyosho Japan decided to setup Kyosho America and unfortunately the rest is sad history. So Kyosho Japan realize Kyosho America is a failure, but they still want to sell products in the US, and now actually have a decent following customer base they need to take care of…Tower Hobbies/GP is not going to take Kyosho back, when they split, it was a nasty divorce that left virtually no room for reconciliation. So thinking they need to partner up with a big distributor again, the only option left is Horizon. And how ironic is all this for Gil Losi Jr.? He left Horizon after Losi was bought and he went to Kyosho and now Kyosho is getting back in with Horizon?
Like I said, until we hear more, this is pure rumor. I'm sure mine or Brian's mail box will get a flood from friends of Gil or Pops, or Horizon to put this one to rest!
That's it for this week. Hit your local hobby shops, hit your tracks, heck, why not find yourself a new vehicle to get ready for this summer?
Your Cub Reporter