THE Cub Report, Version 03.01.2010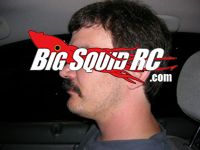 Just 11 days, 53 minutes, and 11 seconds till the cars roll off for first practice at the Formula 1 Grand Prix of Bahrain. Several new teams this year, and 2010 will mark the return of the most incredible racer of all time, Michael Schumacher. One of the best days of my life was spent watching Michael win the USGP in Indy with his Ferrari. RC racing could learn a lot from the F1 guys, maybe the people making the rules will watch an F1 race with both their eyes and ears open.
Certain things define you. Some people say your shoes define who you are, others say it's how you look people in the eye. Talking with one of the industry types this week, he defined BigSquid as "a no name website with a bunch of morons typing with their tails". Little did he know I had my tail surgically removed just weeks after birth. 🙂 But to digress, I can define BigSquid as two things- a site aimed squarely at Bashers, and a true "anti-magazine".
Bashers make up roughly 95% of the consumers in this hobby and strangely they are left out in the dark by the mags. Week in and week out, the mags go to great lengths to accommodate the racing crowd with fancy dancy race reports and tests of the latest uber $800 race cars. That's nice and all, but they are only preaching to 5% of the choir.
Luckily for BigSquid, the editor, and most of the supporting staff are seriously core bashers (myself excluded of course, but even I find myself bashing more now days). Also luckily for BigSquid, being an "anti-magazine" has huge advantages for readers. Marketing money doesn't buy advertisers immunity from getting a bad review or a verbal bashing in THE Cub Report at BigSquid. Consumers have read too many kiss a$$ reviews on crappy products in the print rags for years now. How dumb do the print rags really think consumers are?
The crew at BigSquid knows for a fact that most bashers spend more time driving per week than the editors at most of the print rags. They also spend more time wrenching on their rigs. You may not have seen the office of one of the print rags editors before, but I have, and it was littered with broken "test" trucks. All were trucks driven for probably 10 minutes tops, broke in one form or another, then never fixed. If you talk to some of the editors, they claim they are just too busy working on the mag to fix the enormous pile of broken trucks, but strangely, all the bashers I know also work long hours and have families, yet the bashers seem to find the hour or two a week to sneak in some wrenching. How do you really know about a product without wrenching on it? Amazing how some of the mags know literally nothing about the products that they review.
That's it for this week, thanks for reading, and support your local hobby shops and tracks/bash spots!
YOUR Cub Reporter