THE Cub Report, Version 03.15.2010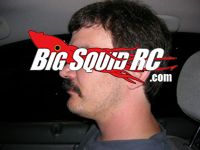 First up this week are a couple reminders. Looks like BigSquid's next Li-po battery shootout starts testing next weekend. Venom vs Checkpoint vs Common Sense vs JBG vs Zippy vs $9 Ebay pack vs Hong Kong mystery pack equals one hell of a battery shootout.
Second reminder is that the annual April fools edition of THE Cub Report is coming up soon, so if you are in the industry, PLEASE consider the date before your lawyers contact us. Thanks!
Need more proof the rc hobby IS headed to the mainstream? Spike Tv has been giving all kinds of loving to the rc industry lately, including a 30 minute segment on the HPI 5B on their Powerblock Horsepower show. When was the last time rc was given 30 full minutes on a "mainstream" cable channel? Awesome to see, and thank you Spike and HPI!
Want even more mainstream rc? Justin Barcia-Barcia-Barcia won the Supercross Lites Class in Toronto Saturday night, his first Supercross win ever. What was on the back of his helmet? A HUGE RC10.com sticker that got some decent tv time! Way to go Justin and Associated!
In last weeks Cub Report, I mentioned that it was only a matter of time before a marshal is seriously hurt or killed by an 8th scale. Well one of our readers sent in some pretty gnarly pictures of what it looks like to get rocked in the face by an 8th scale truggy. Some of you southern racers might know a fella by the name of Trent Dill, he races and does race promotion down in the Alabama/Florida area. Here's what happened to Trent in his own words….
"So I was helping turn marshal during practice. I had just relieved a kid that was pretty young and I didn't think it was a good idea that he be out there turn marshalling for the 8th scale nitros as young as he was. So I got out there and got into that zone and things were fine. The race director called the track to go cold. Well of course you have those guys that have to get just one more lap in. Well I bent down to marshal a buggy and on my way up I got clocked in the face. Luckily the safety crew was there, unfortunately I WAS the safety crew. I am honestly glad it was me that got hit instead of that kid and I gotta say thanks to Tommy Whalen and John Greene. Tommy gave me a ride to the local ER while working EMT duties on myself, and John Greene took up donations that were given to our local make a wish foundation. Also don't let me forget Mike at Caster Racing for doing the same thing. I hope some good came out of it for somebody."
The first picture of Trent's face is from 12 hours after being hit, the second one is about 36 hours later, and the last one is about 2 months later.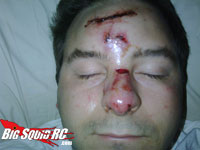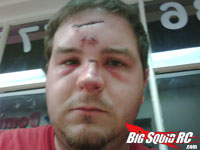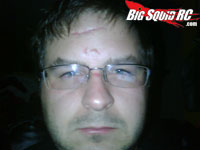 So why don't we be proactive here? We can prevent injuries like the ones that Trent suffered. We can step in right now and make sure nobody ever dies while marshaling rc cars. Why should we wait for the first death before we make changes? Why should our hobby wait for the insurance companies and lawyers to FORCE the changes upon us? Too many industry types, sanctioning bodies, and race directors have kept their heads in the sand too long, just hoping the first death doesn't come at one of their events. It's time everyone pulls their heads out of the sand.
Till next week, support your local tracks, bash spots and your local hobby shops.
YOUR Cub Reporter