The Cub Report, Version 05.18.08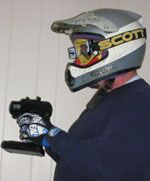 Another week, another Cub Report- here's all you really need to know about what went down in the rc universe last week.
It's been years since the revolutionary Traxxas T-Maxx came out. Since then, most companies have jumped on the bandwagon and produced their versions of the platform. The HPI Savage was the first, and probably toughest competitor in the category. Guess who is the latest to jump on? Kyosho. They waited so long to release their T-Maxx copy that they didn't just miss the boat, they missed the entire ocean. And while nitro monster trucks are still good sellers, the big K's money would have been much better invested in anything electric, primarily an MP-8-E.
Speaking of the MP-8, where is it? Kyosho seems to have jumped from their MP-7/777 platform to the new MP-9. Is the number 8 unlucky in Asia? Who knows, but photo's have been released of the MP-9. No under body shots have been seen, but it has been confirmed with sources at the big K that it is definitely still nitro powered.
2008 has been a real re-awakening for HPI/Hot Bodies. Last week, information for their new 8th scale off road buggy, the D8, were released. Their older "Lightening" series was not quite up to the level of the Mugen's and K-cars, but this new model seems to have all the right features to make it a regular in the A-mains all across the country.
That's it for this weeks folks, keep supporting your LHS and local tracks! The more you support them, the more they will support you!
Cubby