THE Cub Report, Version 08.08.2010- Van Halen Unchained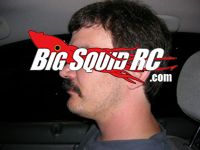 So why is this the Van Halen Unchained version of THE Cub Report? Well it's that way (unchained) every week really, fortunately for me I can talk about whatever I like, something you won't find on the print mags sites. Well, that and I like planting catchy tunes into peoples brains. Lucky this isn't the Dexys Midnight Runners- Come On Eileen version eh?
The BigSquidRC Lipo Shootout 3 is getting closer, this time we'll be testing 4S Lipos intended for 8th scales. You guys have been requesting 4S packs like crazy, so we'll once again do our best to give the fairest comparison possible. If you are a company who wants in, we need your best 4S (greater than 4000 mah please) Lipo in our hands no later than September 15th. If you are a consumer who wants to see your favorite battery included in the shootout, please shoot an email to that company requesting that they enter. Anyone needing more info on the shootout needs to email Brian at BigSquidRC dot com.
Here's a reminder that the Traxxas TORC series is coming to the ChicagoLand Raceway on Wednesday Aug 25th and Thursday Aug 26th. If you've never seen the full size trucks race, you will be amazed how burly they are. Traxxas will also be holding rc racing at the event. The TORC rc racing includes only Traxxas trucks and is all about having fun, so don't be shy showing up with your Slash and getting some laps in. BigSquid will be covering the race, yet another reason to show up and hopefully get a picture of your mug (or truck!) on our front page.
Speaking of Traxxas, HUGE props to the Traxxas guys for setting up a demo at the AMA Loretta Lynns Amateur Motocross Championships last week. Traxxas brought out some cool trucks and even Monster Energy Kawasaki factory rider Ryan Villopoto got some Traxxas hot laps in. Cross marketing to a target audience is great for Traxxas, and great for everybody in the hobby.
Speaking of Loretta Lynns, if you aren't a motocross guy, you probably don't know how their national championships work. So here's a brief tutorial. In AMA motocross they hold separate amateur and pro nationals. On the amateur side, area qualifiers are used to let only the fastest amateurs make it to the week long amateur national championship race (traditionally held at Loretta Lynns Dude Ranch in Tennessee). It's truly an honor to qualify for the amateur national championship race, and for the masses, it's what they work for all year long. There are tons of different classes at the amateur national, and this year there was over 1400 entries. Yes, that is not a typo, they had over 1400 entries. On the "pro" side of things, once a rider has enough of a resume built up they submit for their AMA pro license. This ensures only the best of the best can race at the pro nationals. The AMA pro motocross nats (there are only 2 classes in the pros, 250cc and 450cc) are a series, with qualifying on Saturday mornings, and two motos on Saturday afternoon to determine the winners (the top pros fly in Friday, and fly out Saturday night or Sunday, they are at the venue about 10 hours). This year there are 12 races on the AMA pro national series schedule. The AMA (American Motorcycle Association) knows that awarding the most coveted titles in their sport should NOT be based on just one race, it has to be earned over an entire series.
So why did I babble about the motocross nationals? Because the most elite titles in the rc world are considered a joke to those racing full size rigs. The full size guys do NOT think racing rcs as a whole are a joke, they think it looks fun, and even they know our top racers put thousands of hours into being the best. But unanimously, they (elite full scale racers) think single races for our (rc's) most elite titles is just plain bogus, and a slap in the face to our top drivers who work so hard to be the best. Many rc racers think that full scalers consider rc racing a joke, but they don't, they just think our biggest races are a joke.
On a different note, have you read BigSquids HPI Mini Trophy Truck Review? I had no part in that one, but Brian didn't hold back on the good or the bad points of the truck. I am still sticking with my initial feeling on this one, it's a game changer. If you don't believe me, check back in 5 years and I'll bet you'll see lots more scale realism both on the outside, and inside of our new rides……
I was thinking of a new article for BigSquid, one that focuses on customer service. Every company "says" they have the best customer service, what we want from our readers is who YOU think is the best. You guys are the ones that matter, so if a hobby company has treated you well, please shoot us an email and let us know about your experience with them. Shoot it to Brian at BigSquidRC dot com.
That's it for this week, support your local hobby shops, tracks and bash spots!
YOUR Cub Reporter
ps- Thanks for reading, and thanks for making BigSquidRC the most popular rc news site in America!