The Cub Report, Version 09.15.09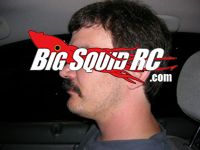 See the teaser for Kyosho's latest and greatest, no not their entry into the SC market, but for their DBX VE? Let's say you take an 8th scale buggy and shrink it down a bit to use 10th scale speedo's, motors and a single 2S battery. Then you put on a buggy body that any Trekkie would approve of, and finally throw on some over sized truck sized tires. Only then would you have the new DBX VE. It's outside the box for sure, but I'm starting to dig it. One of the real "fun limiting" factors of many of today's rc's is that they are hard to drive on bombed out dirt tracks. The DBX has both 4 wheel drive and large tires, both will aid considerably in making it easier for an average driver to get around a track without crashing 5 times a lap. It's looks a bit weird, but then, so did the Traxxas Slash at first, and it ended up being the second coming of the T-Maxx.
Kyosho, seemingly in envy of Horizon's limitless teaser output, also put out a "teaser" for their upcoming SC entry, the Ultima SC. Being an Ultima series truck implies that it will be an electric 2wd, a direct competitor for the Traxxas Slash, AE SC10, HPI Blitz, and Horizon Strike. Just how much longer till the short course type trucks make all the AE T4's and Losi XXX-T's obsolete? Humm, I'm guessing not long.
More and more 8th scale electrics are hitting the market, and last weeks entry was the HPI Vorza Flux HP RTR (say that 10 times fast!). The Vorza HP uses some parts off their World Champion D8 buggy, and should sell for just over $600 at your favorite hobby shop. The one part of the design that really stood out to me was the motor mount, perhaps one of the slickest designs out there. I keep seeing more and more 8th scale electrics showing up at local tracks, maybe with all the new entries to the class it might just take off after all.
Horizon showed their "new" HighRoller micro 36th scaler last week. I'm trying to think of a deader market segment than 36th scale, maybe 2wd gas truck? Naw, I know several guys that have bought 2wd gas trucks this year, but I can't think of anyone I personally know that has bought a "micro" 36th scaler. The HighRoller comes with larger tires than the Micro-T, so if you're in the micro market, it might be worth a look.
The last few months, I've made a habbit of reading Waldo's column in R/C Car. It's not polished, nor rocket science, nor in the same league as Super Hunky's rejects, but I found it a good read. Well, this month (November issue) Waldo's column disappeared. WTF, seriously? In it's place was Jason's World written by Jason Yu. If you are an industry person, or a traveling racer, then you'll know Jason. He's at most of the big races and trade shows with 10 grand worth of camera swinging around his neck, is very polite but holds his ground, is somewhat soft spoken but gets his point across, and is nearly invisible, yet you know he's always there. I really don't know him very well, but from what little I've interacted with him, I was expecting a very conservative write up for his first time at bat with a featured opinion piece. To boil his article down, he talks about why he doesn't race anymore. Jason states that he just enjoys driving his rc cars more than he does racing them. I can definitely see his point of view. I'm also sick of getting hacked, piss poor marshalling, outrageous race fees, and retarded track designs, among other things. His article made me think to myself- would I just be happier being a basher type guy, and do I have the balls to just quit racing so I can actually enjoy the sport? Or does the entire racing system need to be changed to ensure more fun and less b*llsh*t? Just the fact his article made me think at all is awesome, props to Yu on a great column. I hope Bess opens up an extra page so that both Yu and Waldo can have their say each month.
To hit on a completely different tangent- is it just me, or is there a LOT more theft going on at the races this year? Personally I've had several "items" just disappear, and I've heard of more theft in the pits from other racers than I've ever heard during any race season before. Since the beginning of the hobby we've always been able to just leave our tools and cars laying out in the pits with nearly no fear of them getting stolen while we are out marshalling. I actually know of one track where the majority of racers shove all their tools back into their pit boxes when they go out to marshal. Out of all these thefts, I've heard of two people being caught, both just punks too lazy to get a job and earn their own rc gear. Unfortunately, neither were prosecuted, and one wasn't even banned from that track! If you are a track owner, perhaps it's time to address (or preempt) this issue by whatever means necessary.
There are a couple of important events coming up that you should try to attend. October 17th is a big BashFest at Slot and Wing Hobbies in Champaign Illinois. Contact the guys at Slot and Wing for more information on that one, and BigSquidRC will have a couple guys out there to bash hard and do a write up for the site. The second event is the iHobby International Hobby Expo on October 24th and 25th at the Rosemont Convention Center in Chicago. Head over to iHobbyExpo.com for complete info.
That's it for this week gang. Support your sport, hit your local tracks and go in and say "Hola" to the crew at your local hobby shops.
Your Cub Reporter
ps- And I want to give a quick shout out to my homies over at modellismo.eu, Hola!