THE Cub Report, Version 10.05.09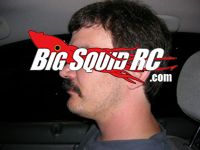 Long time no see, but welcome back to yet another edition of the industries most litigated opinion column, THE Cub Report.
So what's the scoop on some of the newest product releases? Well, let's just dive right in.
RPM is in the Big Squid RC Basher Approved hall of fame. They are one of the few companies that actually have their heads screwed on right, making good looking, good fitting, and no hassle product. Well, they recently shot out pics of their new Slash rear bumper/Mud Flap combos. Awesome, just awesome! I hope they sell a zillion of them. One step closer to realism, with the uber reliability of RPM. If you've been watching the 1:1 Torc series races on ESPN, you'd notice the only major cosmetic difference between your Slash and those racing on tv is the lack of mudflaps. The RPM bumper/mupflap combo is just what your Slash needs.
Seen the new Traxxas teaser video? Pretty much any type of "teaser" makes me want to have rabid multi-orfice fun with a porcupine excited now days. With that said, I give the new Traxxas teaser vid a B-. Slick production, but just slightly above average as far as general hype goes. I figured they would have waited to unveil their new beast at iHobby, as you could do one hell of a cool intro in front of the masses, but I hear they'll be unveiling yet another platform at the show.
Big Props go out to Traxxas and RC Pro Series for their support of Rick "Too Hip" Johnsons Torc series. Awesome tracks, all the big name players, decent tv package, and Traxxas is plastered everywhere. Most media exposure ever for our industry. Even if you aren't into short course racing, try to catch one of the 1:1 Torc races on the tube.
Horizon released info on a left hand thread kit for their 8 and 8T series of 8th scalers. What this boils down to is a few left hand screws for 5 bucks that should have been a running change on the new kits, but are being sold as a hop up. The HPI/Hot Bodies 8 series buggies and truggy come standard with these, cost far less, and won the worlds last year. Hummmm… wonder what the better value is.
Speaking of HPI/Hot Bodies– their Blitz's are almost here! Get on the pre-order list at your LHS ASAP.
RC Pro Products released info on their uber new 8th scale wheel wrench. Nice to see a product designed by actual common sense racers, built to last, works correctly, that doesn't empty the bank account. Quality tools are worth their weight in gold, thankfully, the RC Pro Products have all the quality but not the insane price tag.
Every JConcepts body I've ever seen looked uber trick. All their bodies for "race" type vehicles are really cool. Sadly, JConcepts has released pics of their new Slash body called the BAJR. Lets say you took the top off a VW body, the rear off a quad racer body, and the front off a Herbst truggy body, then molded them all into one- then you'd have the JConcepts BAJR. Wow. Like, you gotta be kidding me kinda fugly. If you want to turn your good looking Slash in a sort of Martian Turd looking machine, the BAJR is the body for you. Excuse me while I wash my eyes out with battery acid.
Well folks, you made it to the end of yet another Cub Report. Thanks for reading, and please get out and support your LHS's and local tracks.
Your Cub Reporter